Creamy Mushroom Pasta with Pea and Asparagus- Vegan and Nut Free
This creamy mushroom pasta dish is my perfect recipe for transitional times of the year. Yesterday it was raining; today the sky is clear and the sun is shining, but it's blowing a gale. I want something comforting and delicious, but not too heavy- like sitting in front of a sunny window in my pyjamas.
A creamy pasta dish with green seasonal veg is my answer. The carby comfort I crave, combined with the fresh taste of May. Even better that it's ready in 15 minutes, and is a perfect portion for a Friday night meal for 2. Insanely delicious, comforting, and seasonal veg at-its-best. Let me show you how.
How to make creamy vegan sauce without nuts
A lot of vegan creamy sauces are based on nuts. A tried-and-true method is to blend soaked nuts with water, garlic, and salt, and any other flavours you desire. I love this method, but know that it can exclude some dietary requirements, as well as the fact that nuts can be expensive. I want everyone to be able to enjoy creamy saucy goodness!
To make the creamy sauce for this pasta dish, I start by sauteing garlic, onion and mushrooms, to create a base flavour for the sauce. Then I add white wine and vegan butter, and reduce by half to create a rich, buttery reduction. To this, I slowly add a mixture of oat milk and cornflour, and watch my velvety, creamy sauce form.
And that's it. If you aren't nut-free, feel free to use any dairy free milk of your choice here, but I love oat milk for the creaminess it lends to the dish.
Is wine vegan?
A question I get asked a lot is 'is wine vegan?'. The answer to this question is no, not all of it. This may come as a surprise, as it was to me when I first turned vegan- isn't wine made from grapes!? Yes, it is, but it's the clarification process used which means some wines aren't vegan.
Young wines are filled with natural molecules and are unclear- unlike the lovely clear wines we see on the shelves in shops. Although most wines will self stabilise if left long enough, commercially this isn't viable. Fining agents are used to attract these molecules, making them easier to extract. These fining agents include isinglass (protein from fish bladders), casein (milk protein) and albumin (from egg).
When I go shopping, I look for wines which are explicitly marked vegan. This used to be quite hard and required some research before shopping, but nowadays, brands and supermarkets are reasonably good at labelling wines as vegan.
Creamy mushroom pasta variations
I'm all about recipes being customisable- 9 times out of 10 I don't follow the recipe as I was supposed to, and couldn't tell you what I did when I reached the end! Although I wouldn't recommend making any changes to the quantities which make up the sauce, feel free to make substitutions if you don't like, or don't have access to, any of the ingredients.
Don't like asparagus? This recipe works great with tenderstem broccoli.
Don't have rigatoni? Use whichever pasta you fancy. Try fettuccine for a pasta that loves to hold its sauce.
Don't have wine? Mix equal parts apple cider vinegar or white wine vinegar and vegetable stock. If you'd like, add a teaspoon of maple or agave syrup for sweetness, and add to the recipe in place of the wine.
How to make creamy mushroom pasta
Making this creamy mushroom pasta is easy. Start with a medium saucepan of simmering salted water, and add your pasta. You want to simmer this for around 6 minutes, and then add your asparagus and peas to soften and warm them through. This should be an extra 3-4 minutes, until pasta is al dente and vegetables are softened.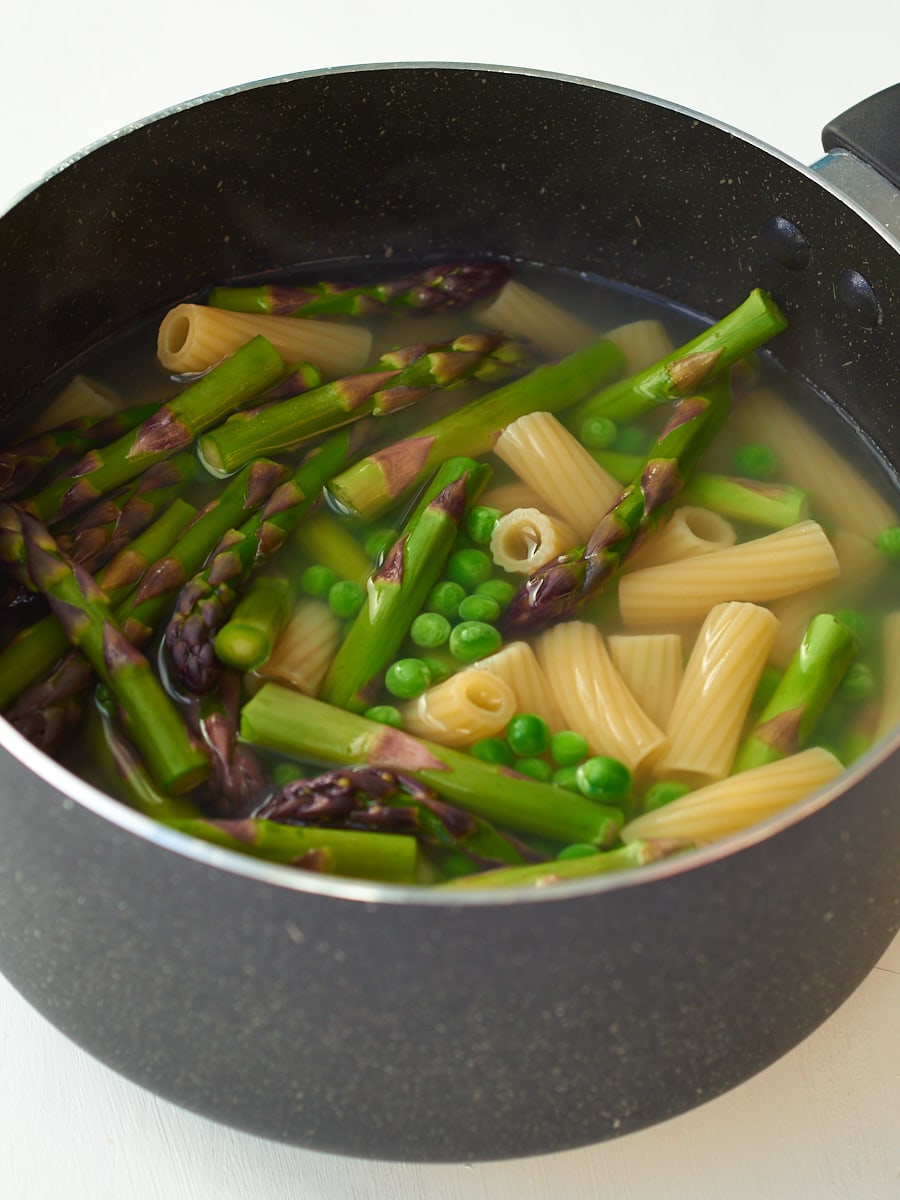 Meanwhile, make your creamy sauce as outlined above. Heat the oil over a medium heat in a saute pan or frying pan, then add the onion. Cook for 2-3 minutes until softened, then throw in the garlic and the mushrooms. Fry for a further 3-5 minutes, then add in the butter. Stir until melted, pour in the wine, and mix well.
You want to leave this to reduce for a good 8 minutes until it has reduced by around half. During this time, you can mix the cornflour into the warmed oat milk, making sure there are no lumps. No one wants a lumpy sauce!
Once the wine has reduced, gradually add in the oat milk mixture, stirring continually. Continue heating and stirring, and you will see the sauce turn thick and creamy. When this happens, throw in your drained pasta and veg, stir and season well.
And voila! Creamy mushroom pasta with peas and asparagus. Give it a go and let me know what you think in the comments below.
Need some more ideas for meals for two?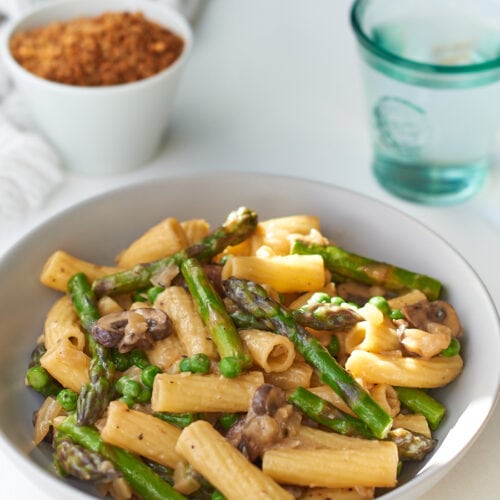 Creamy Mushroom Pasta with Peas and Asparagus- Vegan and Nut Free
This fresh take on creamy mushroom pasta is perfect for spring. Filled with seasonal veg, quick to cook, and slightly indulgent, it's a great Friday night dinner for two.
Ingredients
150

g

pasta*

150

g

asparagus

trimmed and halved

150

g

peas

fresh or frozen

1

tbsp

olive oil

6

cloves

garlic

finely chopped

1

yellow onion

chopped

200

g

chestnut mushrooms

sliced

125

ml

white wine

4

tbsp

butter

dairy free

125

ml

oat milk

warmed

4

tsp

cornstarch

salt and pepper

to taste
Instructions
Bring a medium saucepan of salted water to the boil. Add pasta, then reduce to a simmer for 6 minutes. After 6 minutes, add asparagus and peas and continue to simmer until pasta is al dente, around 4 minutes more.

Meanwhile, heat the olive oil in a large pan over a medium heat. Add garlic and onion and sautee until softened, 2-3 minutes. Then add mushrooms and cook for a further 5 minutes.

Add butter to the pan. Stir until just melted, then add the white wine. Stir and bring to a simmer, then leave to reduce for 7-8 minutes.

Dissolve cornstarch in warmed oat milk and stir until there are no lumps. Once the wine has reduced by half, slowly add the cornstarch mixture to the pan, and stir continuously until sauce is thick and creamy.

Drain the pasta and vegetables, and add to the pan with the sauce. Stir to coat and warm through. Season to taste with salt and pepper. Serve immediately.
Notes
*Use whichever pasta shape you fancy. I used rigatoni here as it holds the sauce really well, but spaghetti or penne would also work great.
Made this recipe?
I'd love to know how you got on- let me know how it turned out in the comments below!
Or if you'd rather you can Pin it, or share it on Facebook (forkfulofplants) or Instagram (forkful_of_plants). Don't forget to tag me!
Want to hear more from me?
Sign up to my newsletter below and I'll make sure you're the first to know when I post a new recipe!
---
---