Chia Seed Porridge with Apricots
We know that porridge is a healthy way to start the day, but have you ever tried boosting your porridge with chia seeds? This chia seed porridge is warm and filling, with seasonal apricots and nutty almond butter.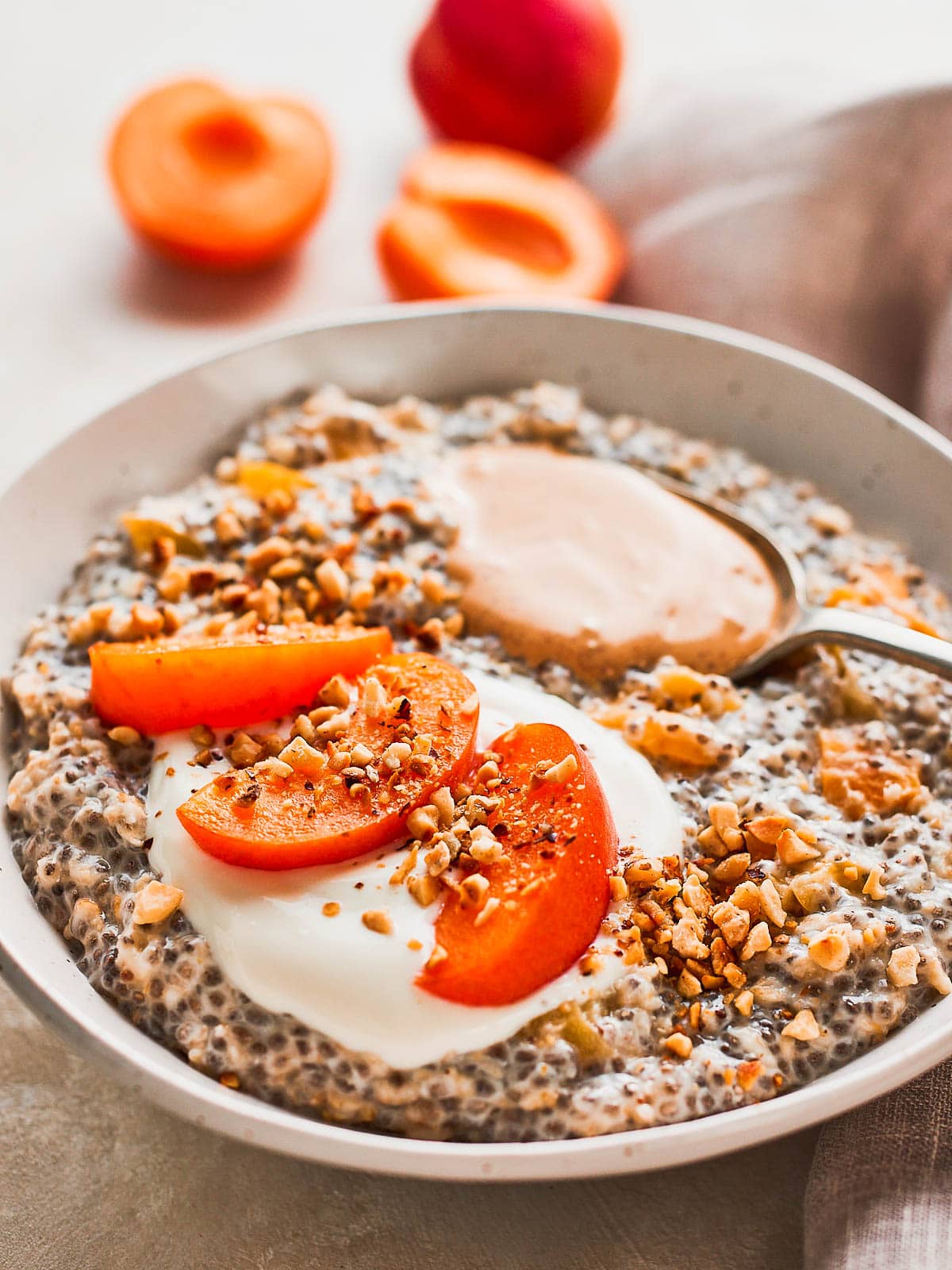 This post may contain affiliate links. As an Amazon Associate and member of other affiliate schemes I earn from qualifying purchases. For more information please view my privacy policy and disclosures.
What is chia seed porridge?
I love porridge (or oatmeal for our US friends) as it's just a super comforting breakfast which I look forward to every day. It's fulfilling and healthy, and will keep you full until lunch.
Not only that, it's a really versatile meal. There are so many things you can add into or on top of your porridge, and you can even make savoury porridge!
Although I love a chia seed pudding, sometimes I just fancy something warm and this hot chia seed porridge hits the spot. The chia seeds make the porridge thicken up really nicely as they absorb the liquid. It's even more thick and luxurious than normal porridge, without being claggy.
You can add what you like to this chia oatmeal, but I've gone for apricots as they are sweet and in season at the moment. Dried apricots cooked in the porridge act as a natural sweetener, whilst the chopped apricots on top are juicy and fresh.
This chia seed porridge is vegan, gluten free and suitable for WFPB and paleo diets. Replacing some of the oats for chia seeds in oatmeal makes it a lower carb recipe. It's really very simple to make, taking only 10 minutes and a tiny bit of prep.
Why I love chia seeds
Raw chia seeds are an amazing superfood and are accessible to most people. Nowadays you can buy them in most stores for a very reasonable price. If you're not familiar with chia seeds, they're the seeds of a desert plant called Salvia Hispanica, which is actually a member of the mint family.
Soaked in liquid they can increase in size by ten times, by absorbing the water. I wouldn't recommend eating chia seeds unsoaked, as you'd be missing out on a great chance for some extra hydration. If you struggle to drink a lot of water- eat soaked chia seeds!
When soaked, they take on a gelatinous texture, which makes them a great thickener or egg substitute for many recipes.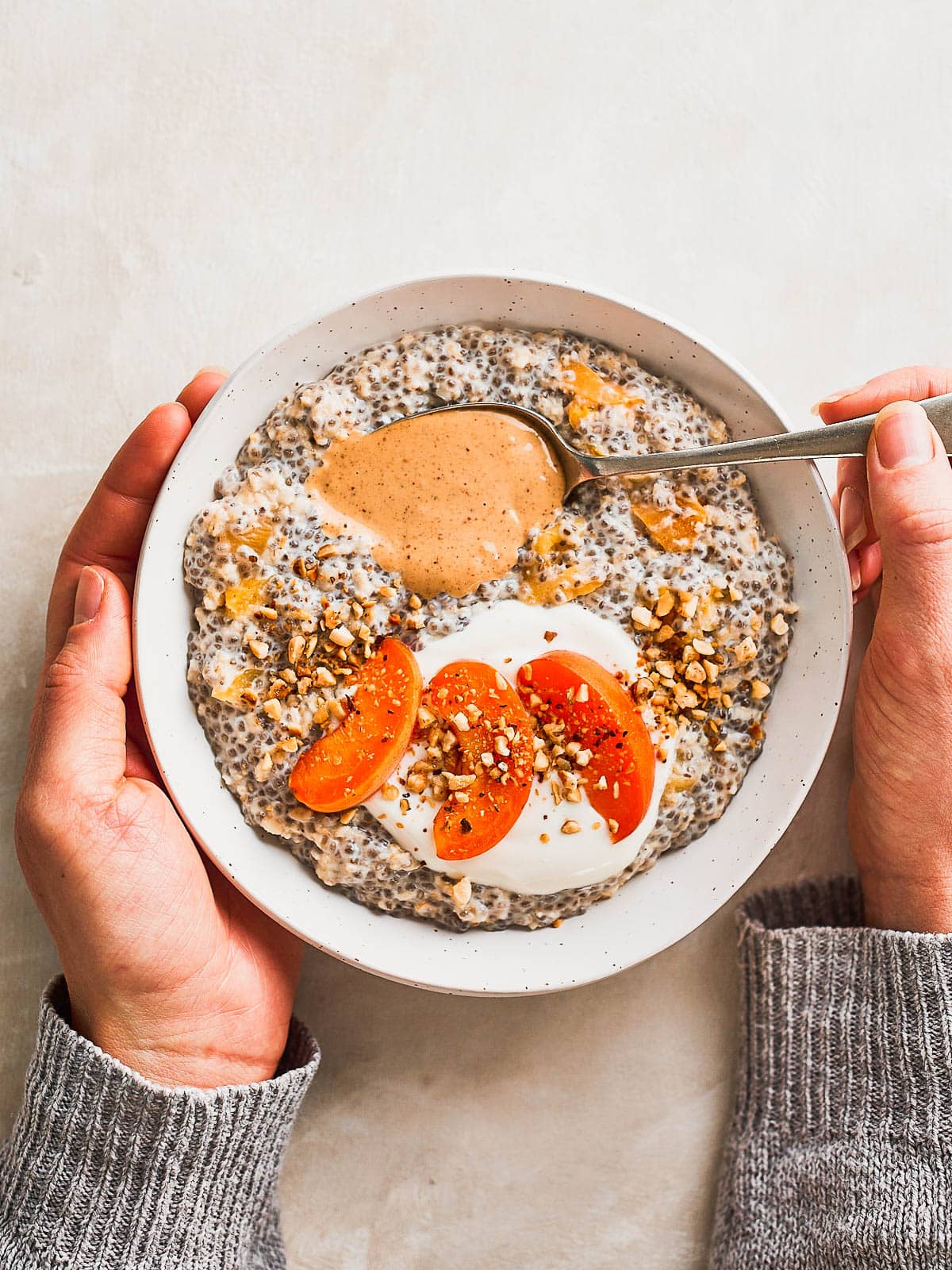 Along with being super hydrating, eating chia seeds comes with some big nutritional benefits. They are high in protein, soluble fibre, healthy fats, and omega 3s, and may also be beneficial to digestive health.
Their nutritional properties and high fibre content make them a great breakfast food, which will keep you going all morning long. I also like to enjoy them in my raspberry and chocolate chia pudding.
What ingredients are needed?
This hot chia seed porridge recipe has a really simple ingredients list!
Oats– I would recommend rolled oats over quick oats or steel cut oats for this recipe. Rolled oats give the best combination of texture and cook time. Try to get jumbo rolled oats, as these retain their texture better after cooking.
Chia seeds– Look for whole chia seeds for the best results from this recipe. If you're struggling to find them, you could use ground chia seeds, but you may need to add some extra liquid.
Dried apricots– I've added some chopped dried apricots for a little bit of sweetness in the chia porridge. These compliment the fresh apricots which are on top.
Almond milk– Almond milk is my favourite plant milk for breakfast, as I just love the taste.
Water– Swapping half of the nut milk for water results in a creamier porridge. You can use only almond milk if you would like, but I find that this makes a stickier, thicker chia oatmeal.
Chia seed porridge toppings
My chosen toppings for this recipe are dairy free yoghurt, fresh apricots, and almond butter. I like to mix my almond butter with a splash of water and a drop of maple syrup to make it into a delicious drizzle.
You can of course use whatever toppings you would like for your hot chia porridge, and I've given some suggestions lower down in this post to get you started.
Equipment needed
You'll need no special equipment to make this recipe, just a saucepan.
How do you make chia seed porridge?
Making chia seed porridge is really simple, and there are two methods you could follow. The first method is my favourite. To get the most benefit out of your chia seeds, soak them overnight in water before making your oatmeal with chia seeds.
To do this, simply put your chia seeds in a small ramekin with 1/2 cup (125ml) of water, and stir. Leave to sit for a minute, then stir again and place in the fridge overnight.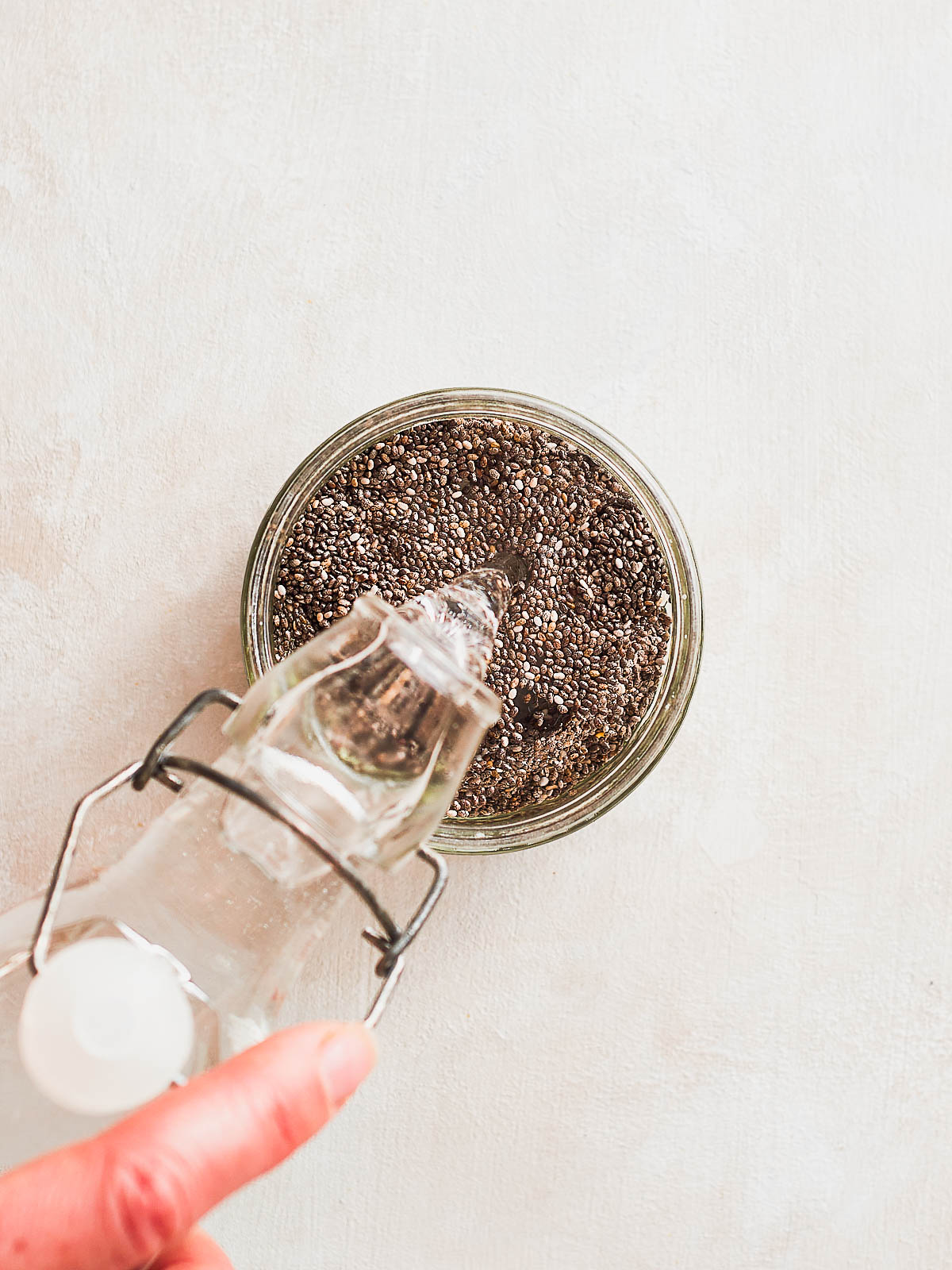 The next morning, combine the soaked chia seeds with the oats, milk, water and chopped dried apricots in a saucepan. Stir well, then bring the mixture to a low simmer. Simmer for around 5 minutes, stirring often, until the oats soften and the chia seed oatmeal thickens.
You can add extra milk or water if it is too thick for your liking.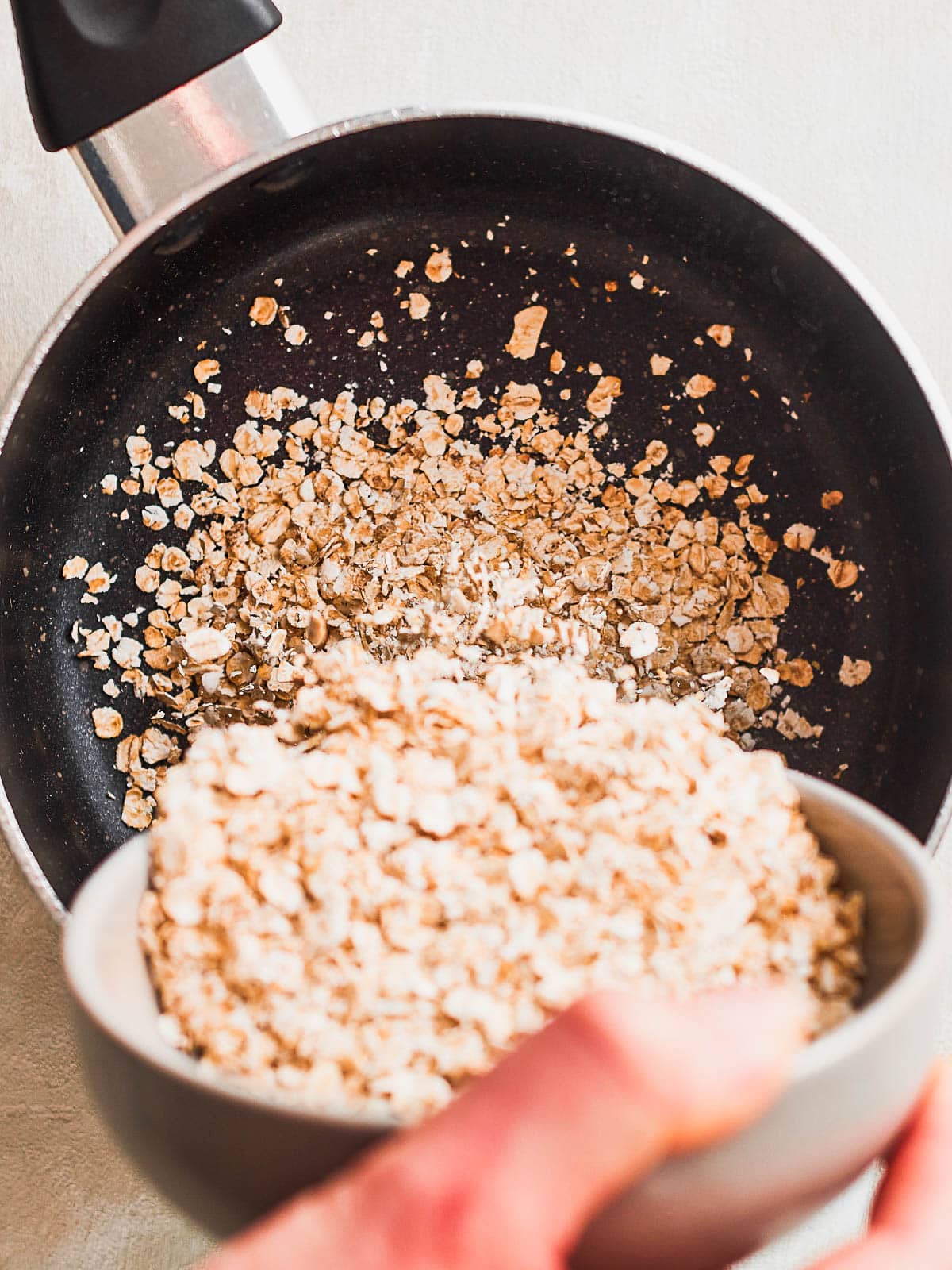 The second method is to use unsoaked chia seeds in the porridge. Heat speeds up the absorption process, so they will still absorb some liquid as the porridge cooks, but not as much as if they were soaked.
Using this method, the porridge may turn a little thicker, so add some extra milk or water if you would like.
To serve, top the porridge with yoghurt, fresh apricots, and an almond butter drizzle.
Serving suggestions
Toppings
The options for topping your warm chia seed porridge are practically endless! Here are some ideas to get you started:
Try some different fruits. You can use fresh fruit or frozen fruit, such as berries, bananas, mango, apple, pear or kiwi!
I love the crunch and hit of protein that nuts add to chia porridge. Try peanuts, cashews, pecans, pistachios or almonds.
The only thing I enjoy more than nuts, are nut butters and spreads. I've used almond butter here, but you could use peanut butter, cashew butter or sunflower seed butter. You could even try almond and chia seed butter for some extra chia goodness!
I've used dried fruit in my porridge recipe, but you can also use dried fruit as a topping too. Try raisins, dates, dried cherries or blueberries, dried mango, or dried banana.
I find this chia seed porridge sweet enough as it is, but if you have a sweet tooth you can opt for the healthier option by adding date syrup, real maple syrup, or coconut sugar.
My top tips for creating a healthy breakfast bowl
I believe that it's so important to start the day with a healthy breakfast, as it sets you up for the day with great, sustainable energy.
It's important for a breakfast bowl to be nutritionally rounded, which is why I love to build breakfast bowls based around oats.
Oats are a gluten-free whole grain food, with a well balanced composition of nutrients. They are full of fibre, which helps to keep you fuller for longer. They are also loaded with vitamins, minerals, and antioxidants. They contain more protein than most other grains.
I would recommend topping your breakfast bowl with a good combination of healthy fats and protein. I love nuts and nut butter for this purpose, as they contain plenty of protein and monounsaturated fats.
Seeds are also a great option, so try sprinkling some toasted pumpkin or sunflower seeds over your next bowl of oatmeal.
Finally, I try to get at least 1 portion of fruit or veg at breakfast. Fruit and vegetables are an essential part of a healthy diet, and getting this in at breakfast is an easy win. If you struggle with your fruit and veg consumption, try mashing up some banana and stirring it through your vegan chia oatmeal.
Ingredient substitutes or additions
If you're wondering if there are any changes you can make to this chia seed porridge recipe, you can give the below a go:
Add some spices– Cinnamon, mixed spice and nutmeg are all deliciously warming additions to porridge. Add a dash to suit your taste.
Cocoa– For a chocolatey porridge, add 1 tbsp of cocoa powder per portion.
Plant milk– If you don't like almond milk, you can use any plant milk you would like. Oat milk, soya milk and hemp milk are all delicious in porridge.
Oats– Although I would recommend jumbo rolled oats, you could use quick oats for this stovetop oatmeal with chia seeds if they are your preference.
Protein– Stir through a few spoonfuls of protein powder to boost the protein in this recipe. You might need to increase the liquid amount if you do this.
Sweetener– You could swap out the chopped dried apricots for chopped dates, raisins, prunes, or a liquid sweetener such as pure maple or date syrup.
FAQ's
If you like easy vegan breakfast recipes…
You might like:
Pin it!
---
---