Pico De Gallo- Coriander Free!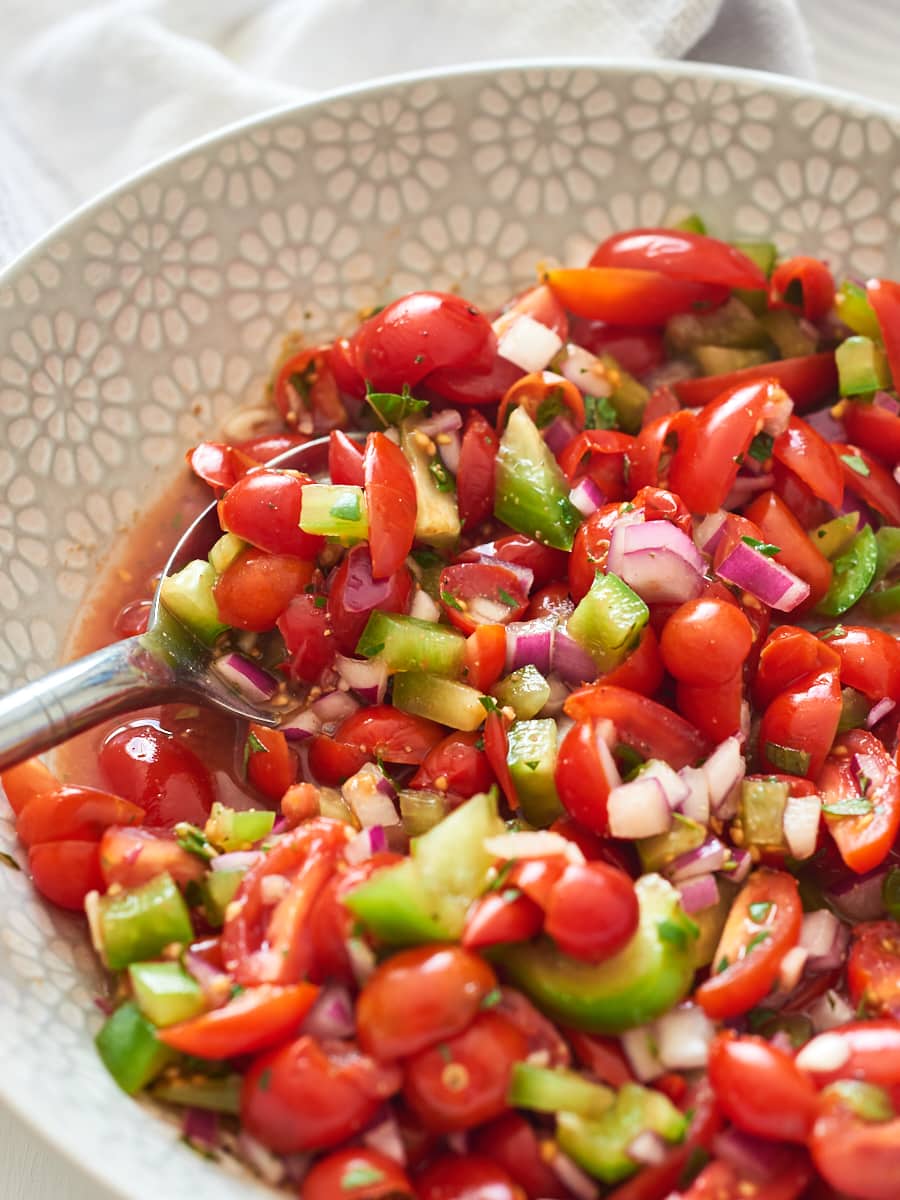 I love pico de gallo on the side of so many dishes in summer, but Remi hates coriander. Pico de gallo is traditionally made from tomatoes, chilli, and coriander, so is an absolute no-go. I came up with this recipe using mint, oregano, and green bell pepper, to mimic the bitter and fragrant flavour of coriander, and he loves it. It's super yummy and is a great way to use up a glut of tomatoes.
My coriander-free pico de gallo
Pico de gallo is a classic mexican tomato dip, often also called fresh salsa. What makes this salsa fresh is the use of completely raw, diced ingredients. It's much chunkier than a traditional red salsa, which is often made from roasted or stewed tomatoes, blended up into a thick puree with onion, garlic, jalapenos, coriander and lime. They have similar ingredients, but a totally different preparation.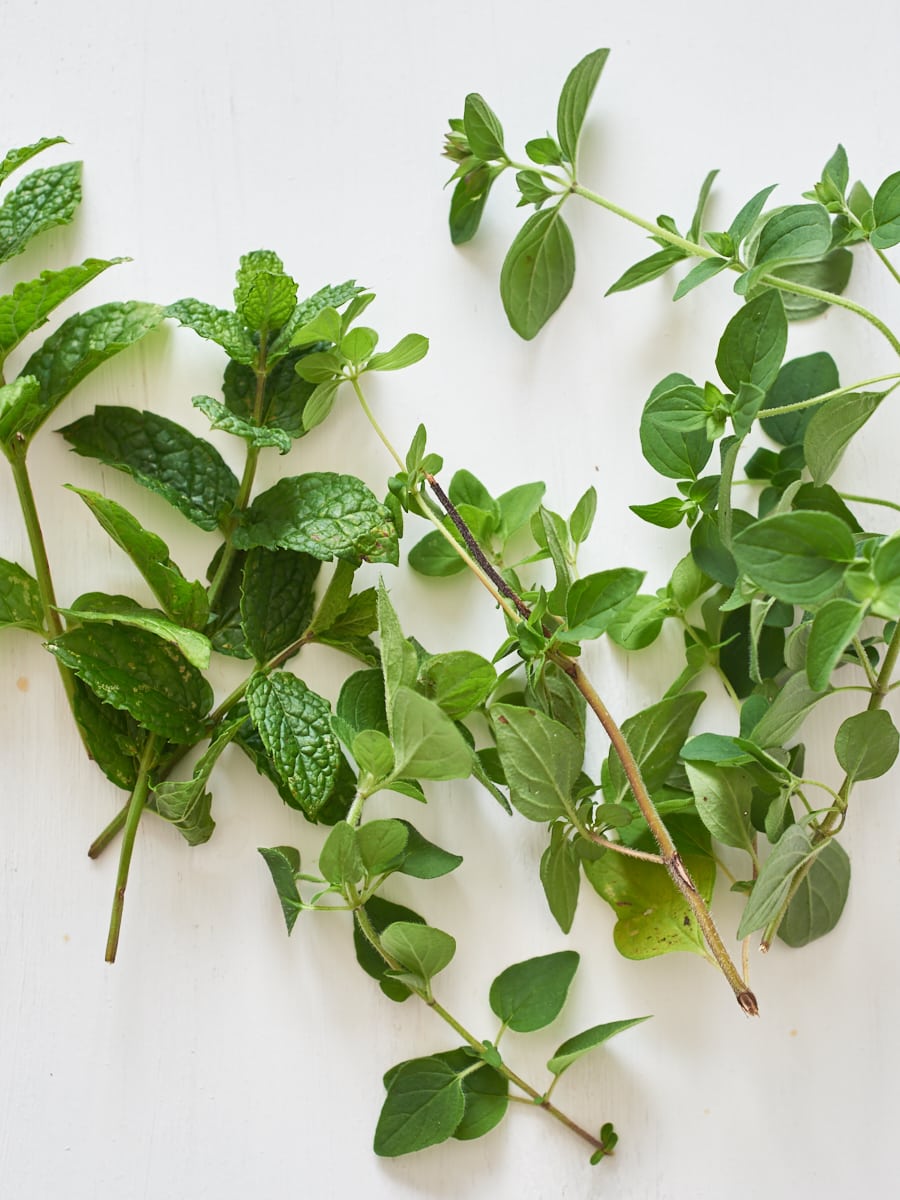 My take on fresh salsa is free from coriander- I love coriander, but it's true that to some people it tastes like soap. As it's such an acquired taste, this is the fresh salsa for all of you coriander haters out there! I think that mint and oregano add a lovely fresh taste to the salsa, whilst not overwhelming the beautiful flavour of the tomatoes.
Is pico de gallo healthy?
Pico de gallo is super healthy and low in calories. Store bought salsas often contain a lot of added sugar and salt, and sometimes preservatives and sweeteners. This salsa recipe is all fresh, whole foods- there's nothing unhealthy about it, so go ahead and eat the whole bowl!
For a healthier alternative to store bought tortilla chips for serving, try cutting a wholemeal tortilla wrap into triangles. Bake in the oven with a little olive oil at 180 degrees for about 15 minutes until crispy, turning half way.
My top tips for the best pico de gallo
Pico de gallo is all about the tomatoes, so the fresher the better. I used some tiny cherry tomatoes from my garden to make my fresh salsa, but if this isn't possible, you can try to get some from a local grower. Store bought tomatoes will still taste delicious, just make sure you choose the reddest and ripest tomatoes on the shelf.
My second piece of advice is to make sure you let it rest before eating. The flavours of the fresh salsa will come out with resting, so give it at least half an hour before you dig in.
How to eat pico de gallo
Pico de gallo can be used anywhere you would normally use salsa. To enjoy it really simply, just dive in with some tortilla chips! Finish of your nachos with a good few spoonfuls, or use it to top off some spicy tacos.
I love to put this in my Mexican Buddha bowl along with spicy fajita veg, beans and corn, and coriander and lime quinoa, or on top of some vegan fish tacos. It's also the perfect addition to a tofu breakfast burrito for an on the go breakfast.
How to make pico de gallo
Making pico de gallo is really simple. Start by chopping up all of your veggies. Halve or quarter your baby plum tomatoes (depending on their size), and finely chop the green pepper and red onion.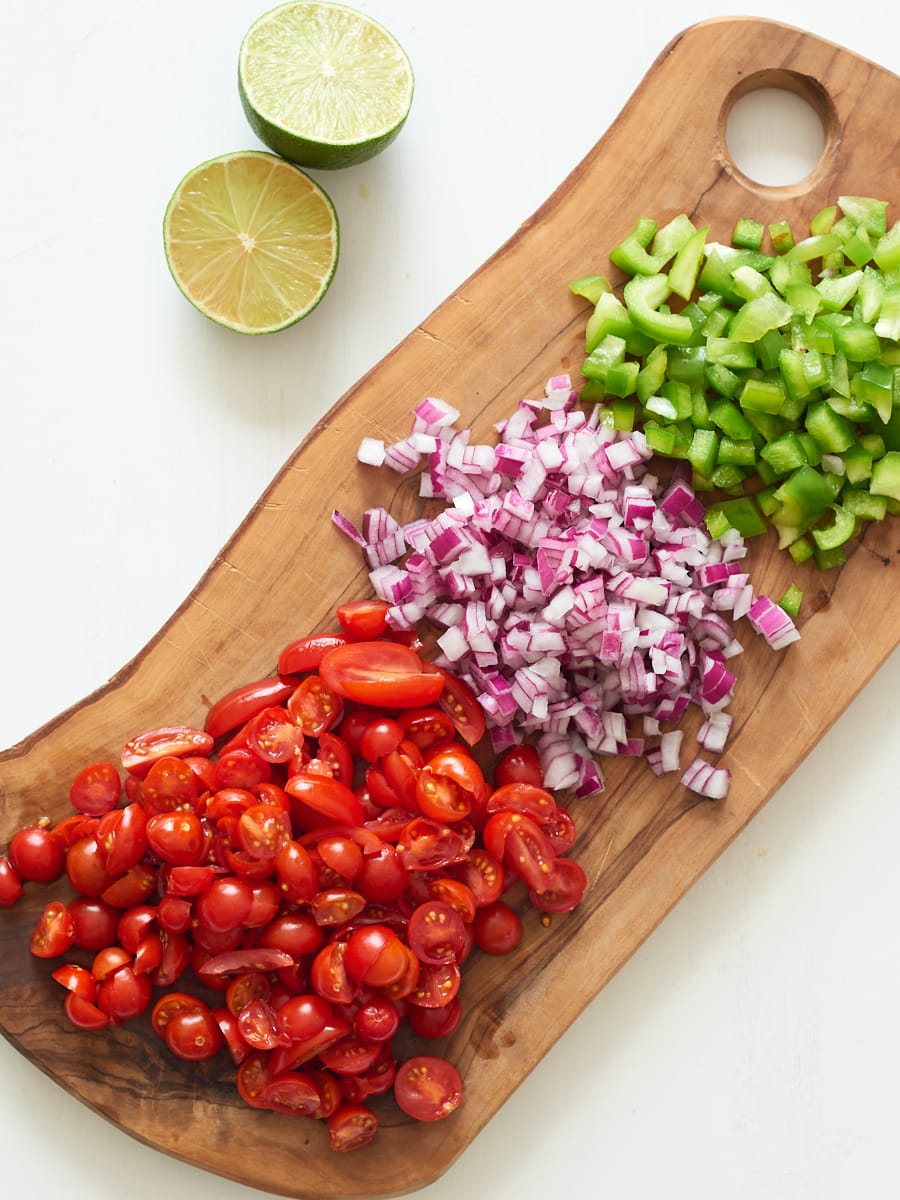 Put them in a large bowl, and add the minced garlic and finely chopped jalapeno. Add a teaspoon of cumin, and a half tablespoon of apple cider vinegar.
Finely chop the mint and oregano and add to the bowl, then squeeze over the juice of a lime. Season with salt and pepper and give it a really good stir.
Leave to rest for 30 minutes, and that's it!
How long does it keep?
In an airtight container, this fresh salsa will keep in the fridge for up to 5 days. Over time, the salt will draw out the moisture in the tomatoes. This will mean that the flavour will get richer, but there will be more liquid pooling at the bottom of the bowl. Use a fork or slotted spoon to serve, so that you don't transfer too much of the liquid.
Looking for more condiment and dip recipes?
For another delicious summery dip, try my roasted red pepper and aubergine dip. Or for a unique take on hummus, whip up a batch of homemade carrot and broad bean hummus– perfect with warm toasted pitta bread!
Pico De Gallo- Corainder Free!
Coriander isn't for everyone, so this is the fresh, chunky and tomatoey pico de gallo for all of the coriander haters out there!
Ingredients
300

g

baby plum tomatoes

quartered

½

large

red onion (or 1 small)

finely diced

½

green bell pepper

finely diced

2

cloves

garlic

finely chopped

1

jalepeno

finely chopped

½

tsp

ground cumin

½

tbsp

apple cider vinegar

1

tbsp

fresh mint and oregano

finely chopped

1

lime

juiced
Instructions
Place the chopped tomato, onion and green pepper in a large bowl with the minced garlic and finely chopped jalapeno. Add the cumin and apple cider vinegar.

Add the finely chopped mint and oregano, then squeeze over the juice of a lime. Season well with salt and pepper and give it a really good stir. 

Leave to rest for 30 minutes, stir again, and enjoy!
Made this recipe?
I'd love to know how you got on- let me know how it turned out in the comments below!
Or if you'd rather you can Pin it, or share it on Facebook (forkfulofplants) or Instagram (forkful_of_plants). Don't forget to tag me!
Want to hear more from me?
Sign up to my newsletter below and I'll make sure you're the first to know when I post a new recipe!
---
---