Healthy Cashew Coconut Snack Bars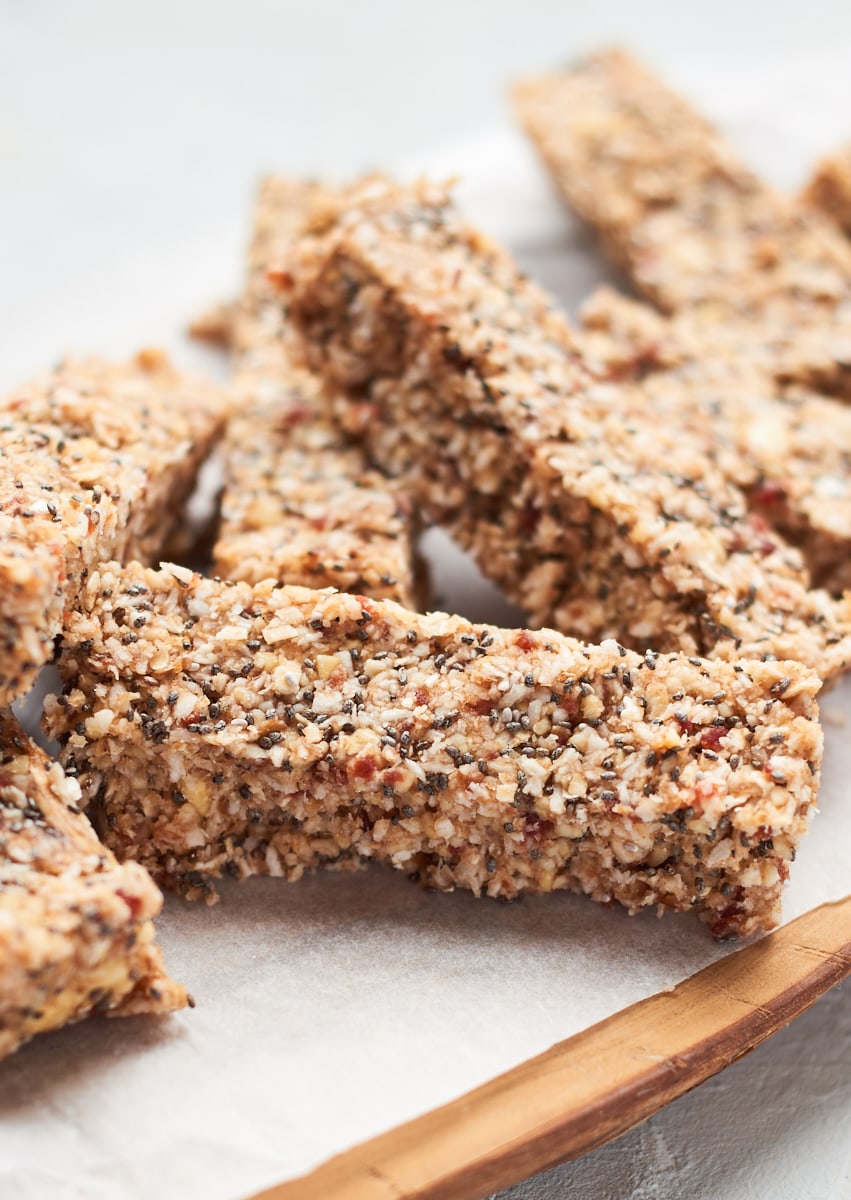 Cashew and coconut is one of my favourite flavour combinations at this time of year. It's so summery and tropical, and I can't think of a better way to eat it than in the form of snack bars. I love snacks that come in an all-in-one compact form, as it means I can take them with me anywhere, which works so well with my busy lifestyle. Healthy, prep-able and convenient are my top priorities when it comes to snacking!
Why make my own snack bars?
There are so many fruity, nutty, oaty, chocolatey bars that can be bought at the store, but I still prefer to make my own. There's often non-vegan ingredients like milk powder in store bought bars, not to mention the high amounts of sugar. Despite most bars being marketed as healthy, at a closer look you can see plenty of added processed sugars and sweeteners.
Making your own snack bars is so quick and easy, and you know exactly what's in them.
What makes these snack bars healthy?
These bars contain the perfect mix of ingredients for slow release energy that will keep you going. To start with, the source of sweetness in these bars comes from dates. Dates contain only natural sugars and are very high in fiber, which helps to control blood sugar throughout the day- super important for controlling cravings.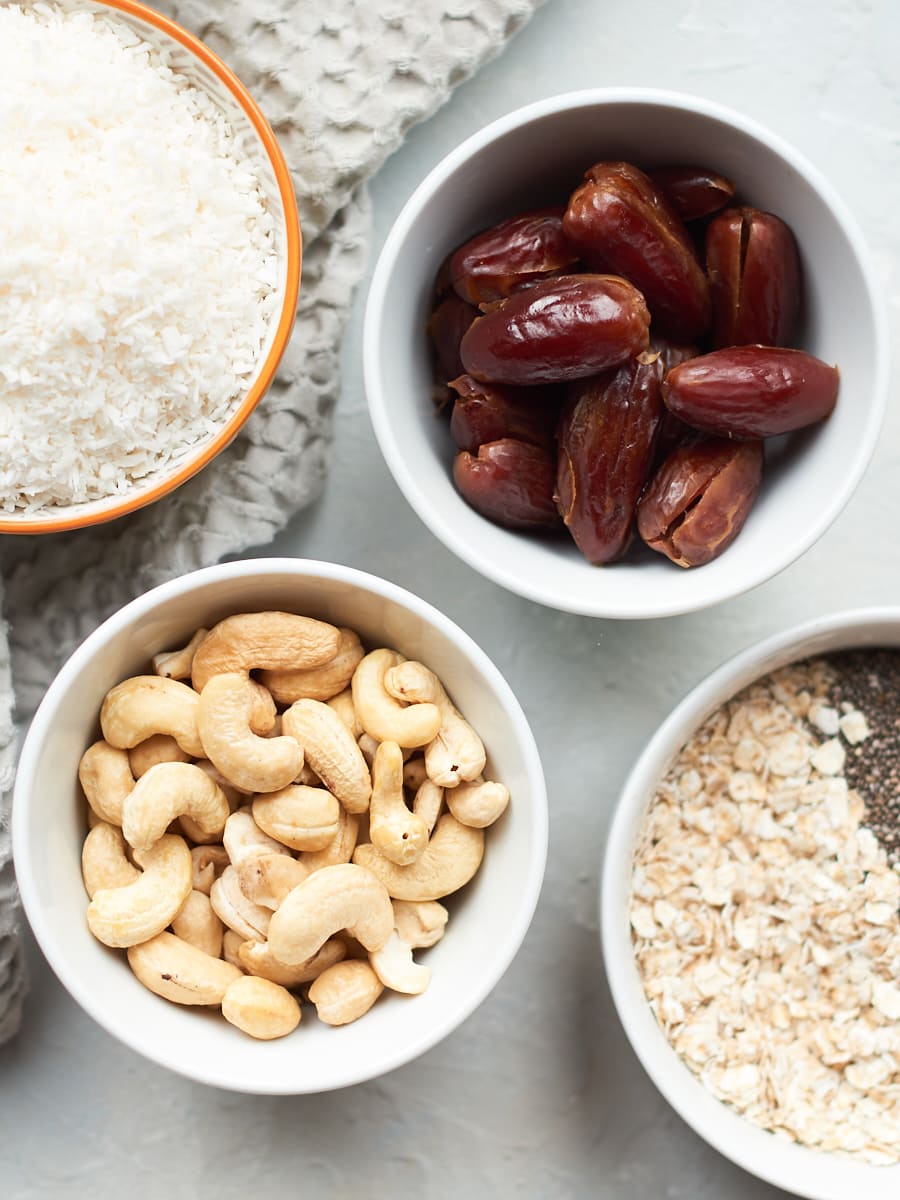 The oats in these bars are gluten free, and are a complex carbohydrate- meaning they give you a stable energy release. Cashews and chia seeds are high in protein, and between them provide a good balance of essential amino acids. Chia seeds are also a high fiber food, and contain good-for-you omega 3 fatty acids.
Dried coconut and coconut oil contain healthy medium-chain fats, which your body can absorb and rapidly use for energy. They are also especially high in manganese, which is great for bone health, has strong antioxidant properties, and helps with metabolisation.
All in all, these bars are a fantastic whole-food, plant based source of healthy fats, fiber, and protein. A super nourishing snack!
How to make cashew coconut bars
I have two ways of making these easy snack bars, depending on how chunky I want them. For more of a chunky bar, start by adding the cashews and pitted dates to a food processor, and wizz until they're coarsely chopped. Next add in the coconut and whizz again until combined.
Then, transfer the mixture to a bowl and add in the oats, chia seeds and coconut oil. Give it a really good mix (I like to get my hands in there!).
If you prefer a slightly more blended bar, start by processing the cashews and dates as before. Then, add in the oats, dried coconut, and chia seeds. Process again for a couple of minutes until it starts to come together. With the food processor running, pour in the melted coconut oil. The mixture should come together into a sticky ball.
With both methods, finish by pressing the mixture into a lined tin (I used a loaf tin for this), and refrigerate for 30 minutes.
If you're in a rush, you can place them in the freezer for 15 minutes instead. Remove from the tin, slice into 8 bars, and that's it! So easy to meal prep the perfect healthy and convenient snack for the week.
How long will these bars keep?
These bars will keep well for up to 5 days in an airtight container in the fridge. You can also freeze these bars for up to 3 months. Just freeze them with some baking paper between each bar so they don't stick together. Grab one from the freezer at least 30 minutes before eating- unless you want a really cold snack!
Looking for more quick and easy snacks?
Try out these miso roasted chickpeas, crispy roasted broad beans, or roasted butter beans for a satisfying savoury crunch on the go!
Tofu nuggets are a great high-protein option for when you need an extra boost of energy, and these vegan savoury muffins will keep you going between meals.
You might also like these peanut butter bliss balls, which take just 15 minutes to make, or these almond-filled healthy muesli slices.
Cashew Coconut Snack Bars
Cashew and coconut is one of my favourite flavour combinations- even better in healthy and convenient snack bars! This is the perfect snack for on-the-go, busy people. Prepare them in advance and have snacks for the whole week!
Ingredients
100

g

dates

pitted

90

g

cashews

60

g

dried coconut

40

g

oats

2

tbsp

chia seeds

1

tbsp

coconut oil

melted
Instructions
Add dates and cashews to the food processor and blitz until roughly chopped.

Add dried coconut and blitz again until combined.

Transfer the mixture to a bowl and add oats, chia seeds and coconut oil. Mix well (you can use your hands for this) until they are well combined.

Transfer to a lined tin or container (I use a loaf tin for this) and refrigerate for 30 minutes.

Remove for the fridge and slice into 8 bars.
Notes
NOTE ON BAR CONSISTENCY: If you'd like the bar to be a more smooth consistency, you can do the entire process in the food processor. Whizz the chashews and dates first, then add in the rest of the dry ingredients. When they're nearly combined, stream in the melted coconut oil until it comes together. 
SHORT ON TIME? These bars can be put in the freezer for 15 minutes instead of refrigerating.
STORAGE: Store the bars in the fridge for up to 5 days, or freeze for up to 3 months (just bring once out to thaw for 30 minutes before eating!).
Made this recipe?
I'd love to know how you got on- let me know how it turned out in the comments below!
Or if you'd rather you can Pin it, or share it on Facebook (forkfulofplants) or Instagram (forkful_of_plants). Don't forget to tag me!
Want to hear more from me?
Sign up to my newsletter below and I'll make sure you're the first to know when I post a new recipe!
---
---