Silken Tofu Scramble
I love a silken tofu scramble for an eggless breakfast on a Sunday. It's delicious as part of a vegan fry up, or piled onto thickly sliced toast!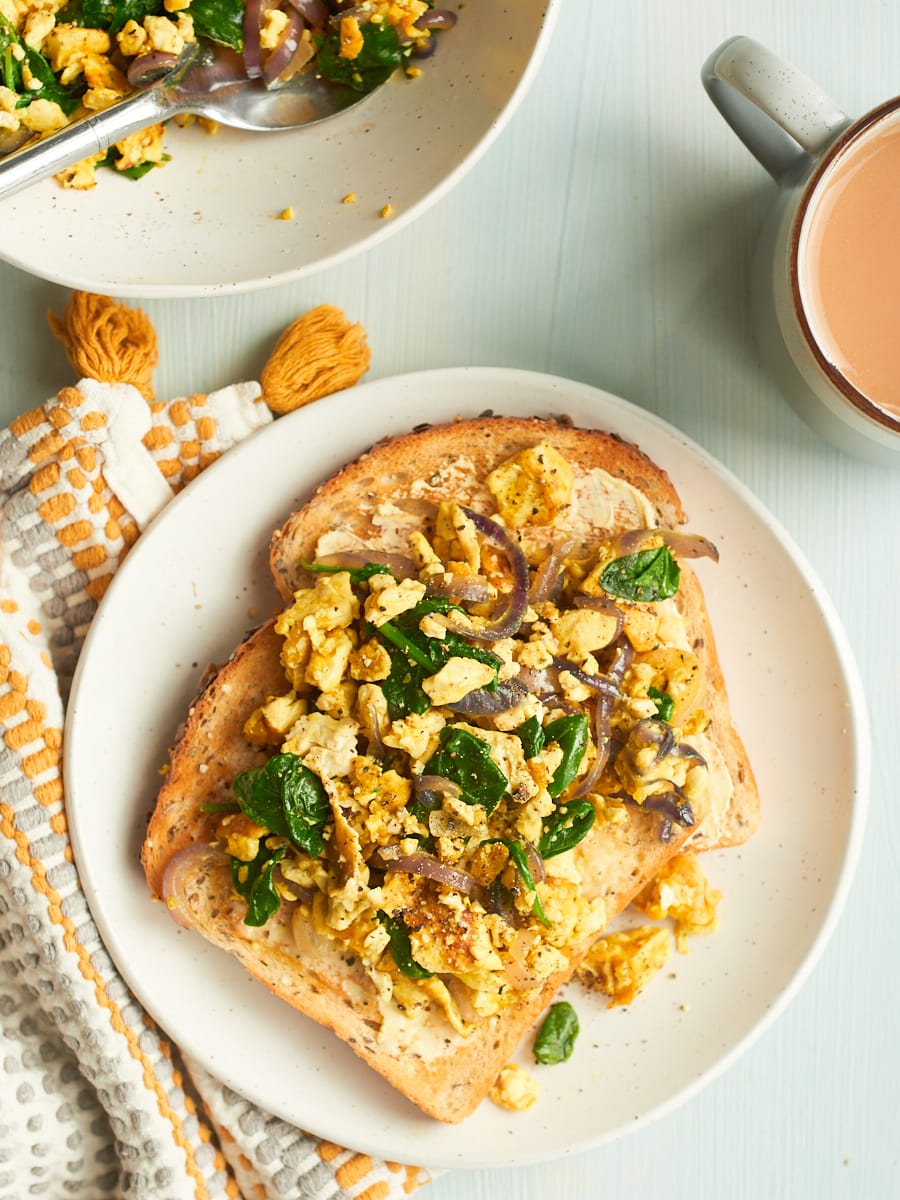 I love to have a little bit of a 'nicer' breakfast at the weekend- not that I don't love my trusty overnight oats and breakfast bars, but there's something lovely about having the time to make breakfast from scratch. On days where I want something sweet, vegan baked pancakes hit the spot. On the days when I fancy something light and savoury, a vegan scramble is the way to go.
Scramble is one of those dishes which really reminds me of childhood. Scrambled eggs on toast was a go-to in my house, and so easy to make. This eggless breakfast is just as easy, but certainly much healthier. There's nothing to say you can't enjoy your favourite childhood meals on a plant-based diet!
What do I use instead of egg?
There's plenty of options when it comes to vegan scramble- egg substitutes, flour mixes, and even chickpeas. For this recipe, I use scrambled silken tofu mixed with chickpea flour.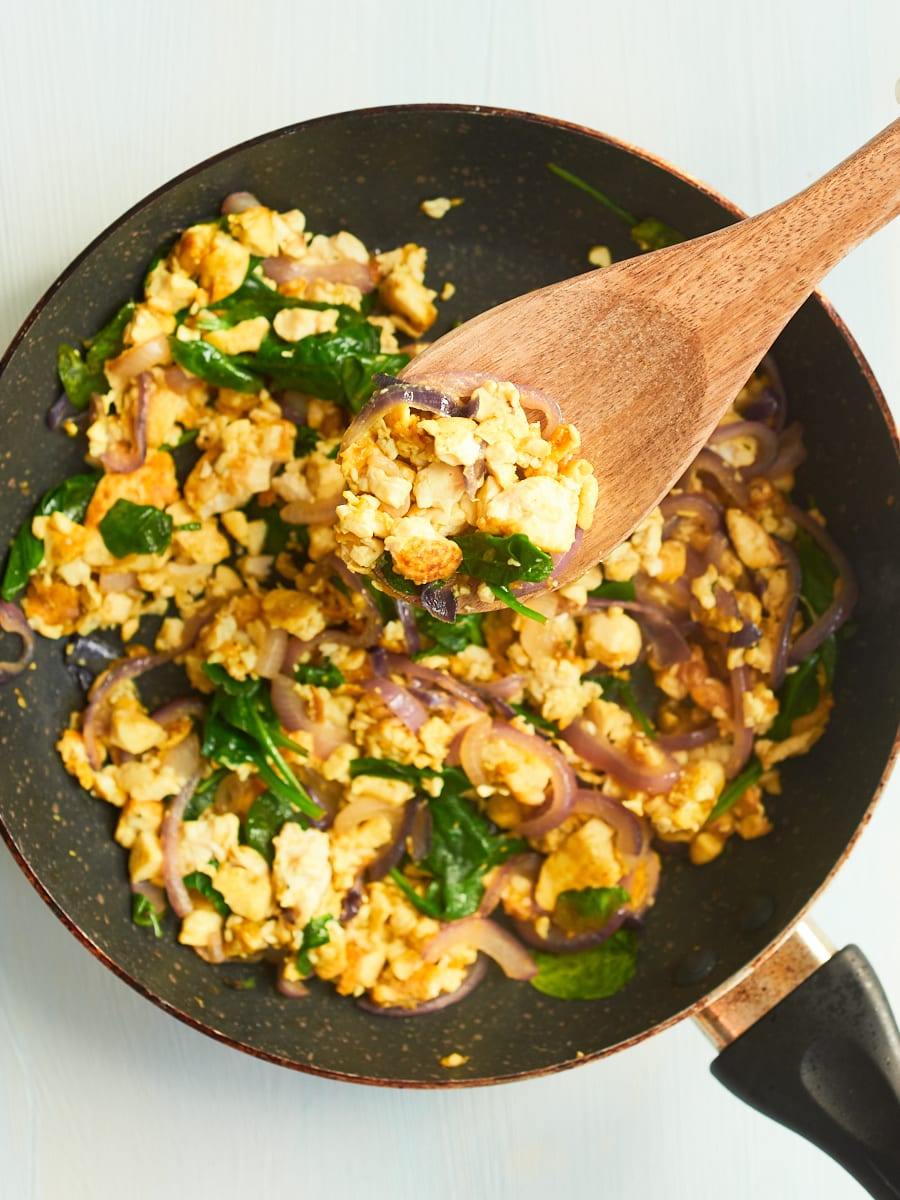 Silken tofu is my top choice when it comes to tofu scramble, as I find that firm tofu gives larger and firmer chunks, which aren't 'eggy' enough for me. If you like your tofu breakfast scramble to be a little chunkier, go ahead and use firm tofu for the recipe- but leave out the chickpea flour.
What's in silken tofu scramble
The base of this tofu breakfast scramble is simply silken tofu and chickpea flour. The silken tofu gives the 'eggy' texture, but the chickpea flour holds it together so it has consistency.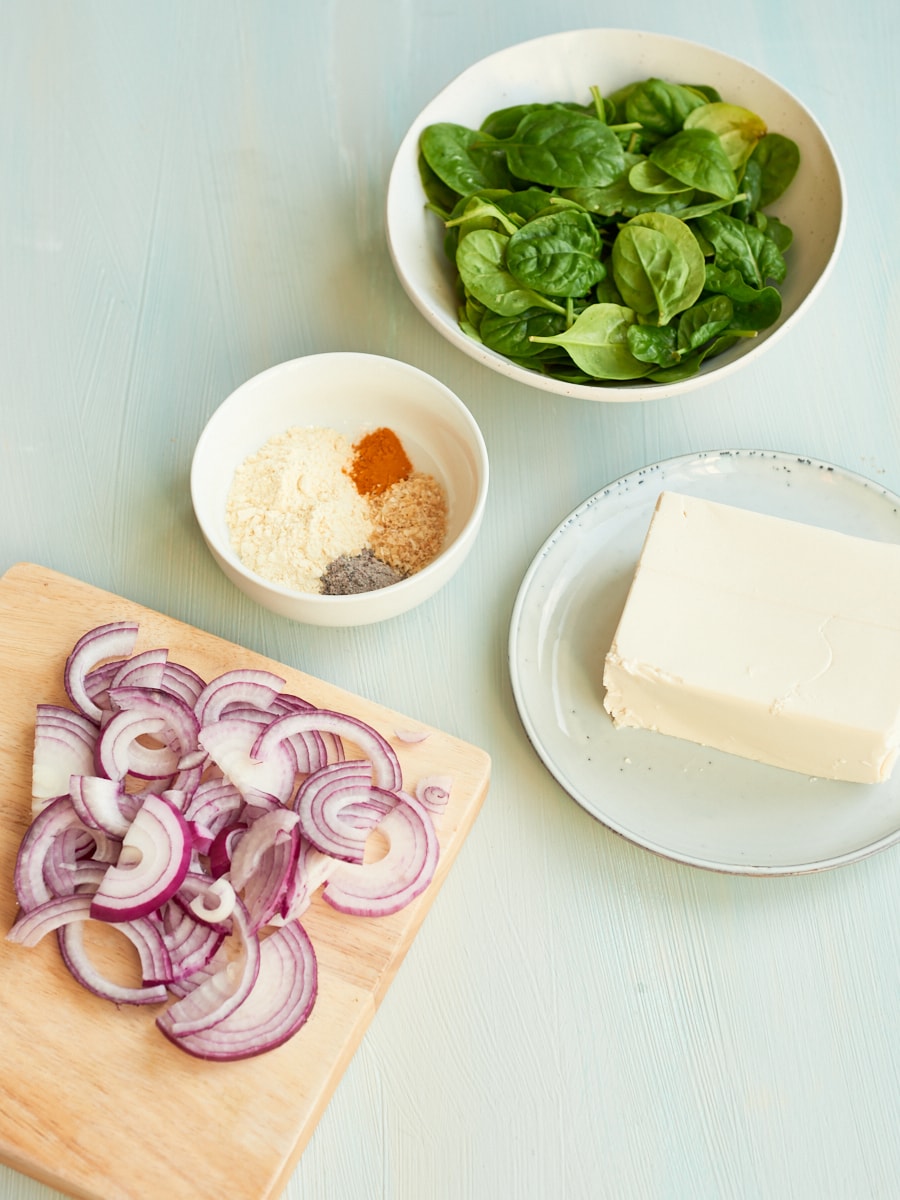 I fry off some red onions and throw them into the scramble at the end along with plenty of spinach. The onions add a lovely bit of crunch and a pop of flavour, whilst the spinach adds freshness and helps keep the scramble super healthy.
Tofu scramble seasoning
I like to keep the seasoning relatively simple in my silken tofu scramble. The one must-have seasoning for me is black salt. This gives the scramble its signature eggy flavour, despite being a completely eggless breakfast! I've written a bit more about this ingredient in my eggless frittata recipe.
Besides from black salt, I use some garlic and onion powder, as well as finishing it off with some black pepper. These spices give the scramble a lovely depth of flavour, and help it to taste more like traditional scrambled egg.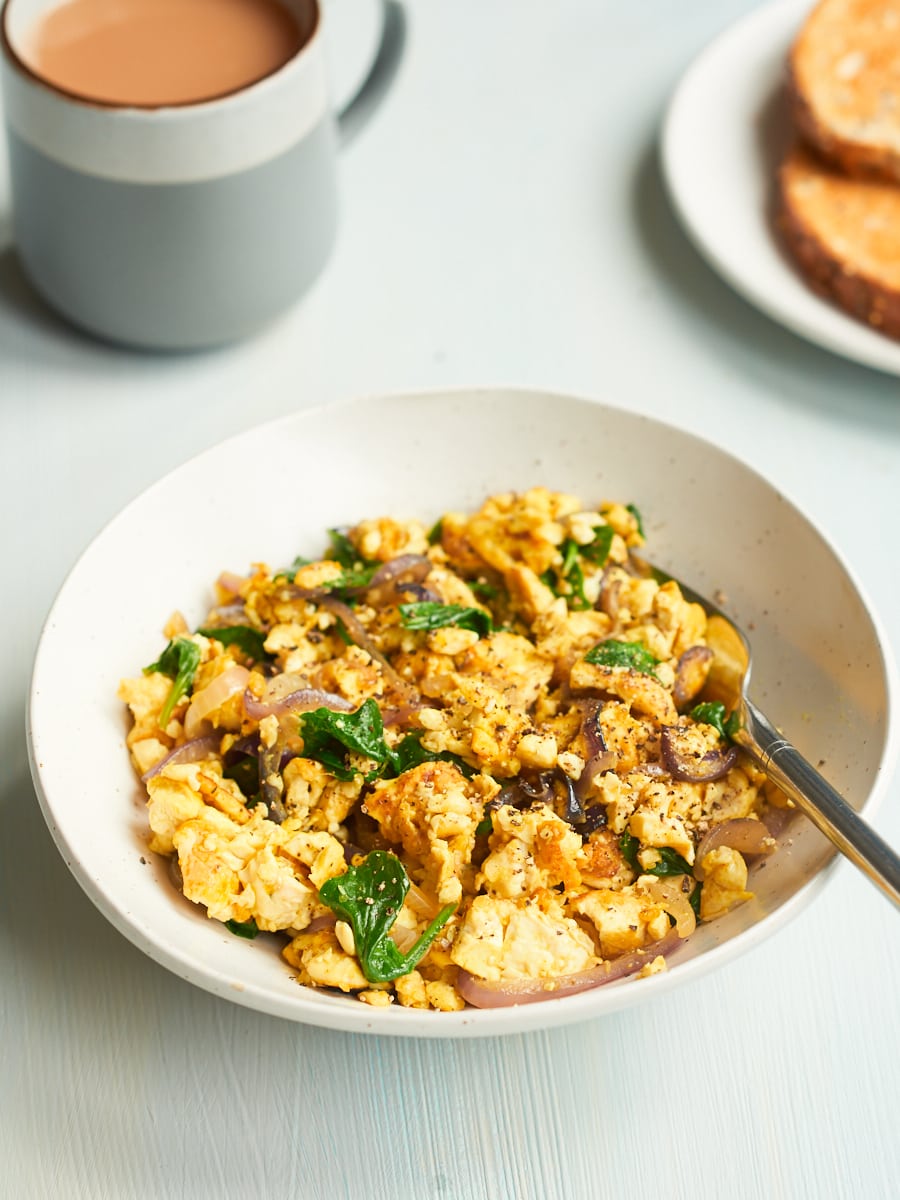 The other important seasoning is turmeric. I use a very small amount of this as it doesn't contribute to taste, but instead adds a subtle yellow colour which makes the tofu look more like egg. Feel free to leave this out if you aren't worried about the colour of the scramble or are sensitive to the taste of turmeric.
How to make silken tofu scramble
Making this vegan scramble is super easy. Start by heating a little oil in a frying pan over a medium heat. Add the sliced onion and fry until soft and slightly golden. Place it to one side.
Next, we want to cook and dry out the tofu as much as we can. Raise the heat medium high, and add the whole block of tofu to the pan. Break it up into large chunks (these will break down later, so leave them quite big). You can add a little extra oil to the pan here if the tofu starts to stick.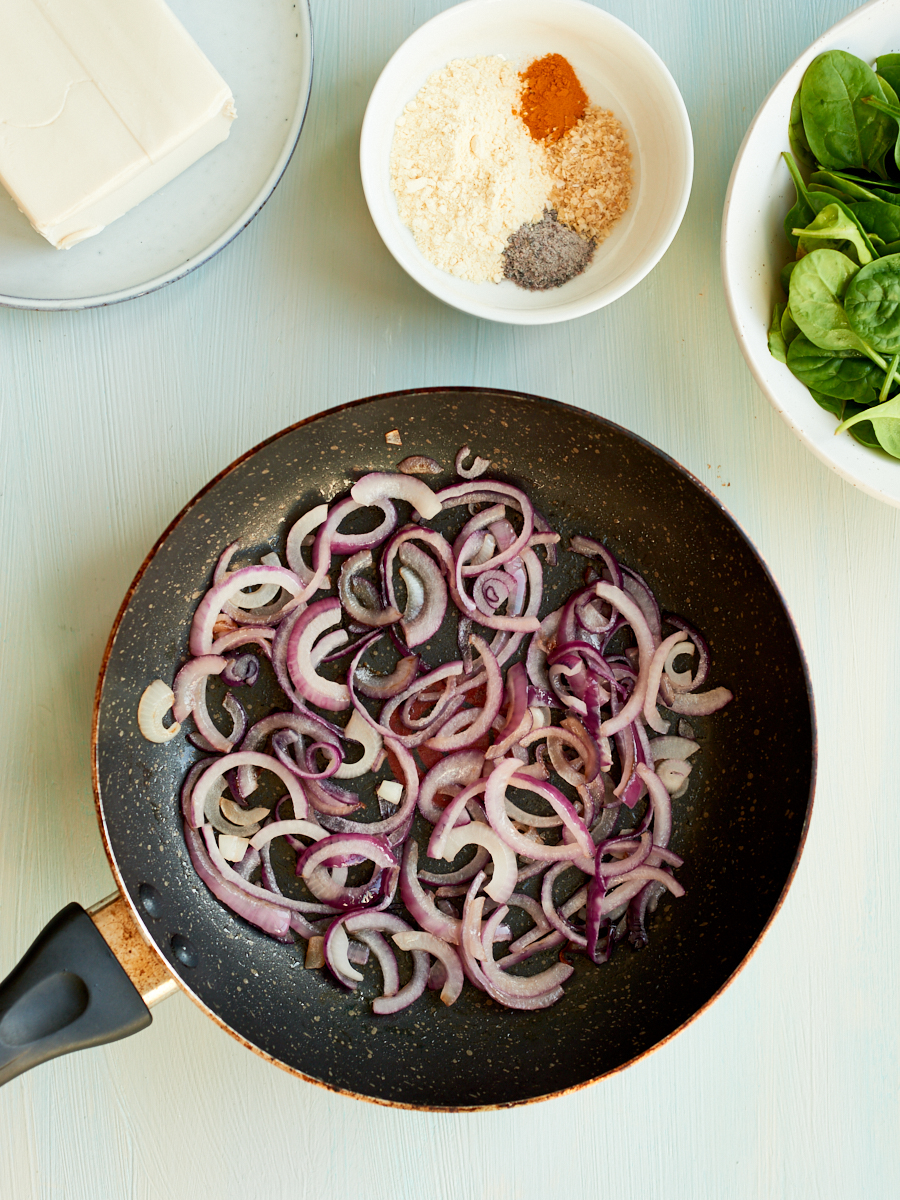 Cook for about 5 minutes, stirring and turning the pieces gently every so often. You'll notice water coming out of the tofu and cooking off, and a bit of browning on the chunks. The water should stop coming out after about 5 minutes.
Sprinkle over the chickpea flour, black salt, onion and garlic powder. Give it a good stir and cook for 2 minutes more. You will need to stir a little more vigorously here to distribute the spices, and this is where the tofu will start to break up into more 'scramble' like pieces. Feel free to break it up as much as you fancy.
Add the onion and the spinach to the silken tofu scramble, mix and cook until the spinach has wilted, about 1 more minute.
How long will it last?
Silken tofu scramble will keep up to 3 days in an airtight container in the fridge. You can reheat it in a pan, or you can just pop it in the microwave for a couple of minutes. I wouldn't recommend freezing vegan scramble- it won't be its best after being in the freezer.
Fancy something else?
When it comes to things on toast, scramble is second only to baked beans! If you agree with me, you might like this simple homemade vegan baked beans recipe.

If you're in the mood for a sweet breakfast, why not try these super easy vegan banana pancakes? They're a healthy, vegan alternative to traditional American pancakes. If you prefer crepes, these coconut milk crepes might just fit the bill.
Or if you're just wondering how else you can eat your delicious tofu scramble, it works great in these tofu breakfast burritos!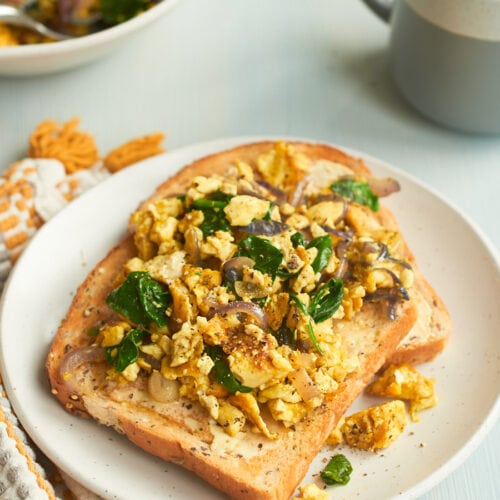 Silken Tofu Scramble
I love a silken tofu scramble for breakfast on a Sunday. It's delicious as part of a vegan fry up, or piled onto thickly sliced toast!
Ingredients
2

tsp

olive oil

1

medium

red onion

sliced

1

pack silken tofu

~400g

1

tbsp

chickpea/gram flour

1

tsp

black salt

kala namak

½

tsp

onion granules

½

tsp

garlic granules

½

tsp

turmeric powder

2

handfuls

spinach
Instructions
Heat the oil in a frying pan over a medium heat. Add the sliced onion, and fry for 3-5 minutes until softened. Remove the onion from the pan and set to one side.

Add the block of tofu to the pan and break up into large chunks. Increase the heat to medium-high and cook for 5 minutes, stirring and tuning the tofu every so often. After 5 minutes the tofu should have stopped releasing water and be golden brown.

Add the chickpea flour, black salt, onion and garlic granules and turmeric powder to the pan. Stir well, breaking up the tofu into a small scramble as you go. Cook, stirring, for 2 minutes until the spices are evenly distributed.

Add the spinach and fried onion into the pan, mix, and wait for the spinach to wilt.

Season with black pepper.
Made this recipe?
I'd love to know how you got on- let me know how it turned out in the comments below!
Or if you'd rather you can Pin it, or share it on Facebook (forkfulofplants) or Instagram (forkful_of_plants). Don't forget to tag me!
Want to hear more from me?
Sign up to my newsletter below and I'll make sure you're the first to know when I post a new recipe!
---
---