Vegan Frittata- Tofu Breakfast Frittata
This vegan frittata is perfect for a tasty breakfast or brunch. Serving 6, it's great for a crowd or for packed lunch leftovers. Chickpea flour and tofu give it the signature eggy texture, and I've packed in mushrooms, onion, spinach and cherry tomatoes- but you can always use your favourite veggies instead!
This post may contain affiliate links. As an Amazon Associate and member of other affiliate schemes I earn from qualifying purchases. For more information please view my privacy policy and disclosures.
What is a frittata?
Traditionally, frittata is an Italian dish made from egg, with a consistency similar to an omelette or quiche filling. It's filled with chopped vegetables, cheese and sometimes meat. Frittatas have a creamy consistency, but still hold their shape well, and can be enjoyed warm or cold.
Why I love this vegan frittata recipe
I never refuse challenges, and eggless recipes are one of them! From pancakes to pasta dough, scramble to Spanish omelettes, and even carbonara, I love taking traditionally eggy recipes and turning them plant based.
This vegan frittata is simple, healthy, and hits that hearty breakfast spot. A fluffy, eggy base meets fried mushrooms (nothing says breakfast like fried mushrooms), spinach, onion, and fresh cherry tomatoes.
Not only is it loaded with vegetables, it's also full of protein and fibre from the chickpea flour and tofu base! It's a nutrient filled and nourishing breakfast, brunch, lunch, or even dinner.
It's vegan, egg free, dairy free and gluten free, and oh so delicious!
What goes into a vegan frittata
The veggies
For this breakfast frittata recipe, I've gone for mushrooms, red onions, spinach and tomatoes. In my opinion, all essential to a good breakfast!
I've fried off the mushrooms, onion and spinach before mixing them through the batter, to help them to release as much water as possible in the pan, rather than into the vegan frittata.
The vegan egg base
The main components of the eggless frittata batter are aquafaba (chickpea water), silken tofu, and chickpea flour. The tofu creates a great creamy base, whilst the whipped aquafaba makes the vegan frittata fluffy, and the chickpea flour gives a thicker texture.
Alone, these ingredients don't have a huge amount of flavour, but make a great base for the consistency of the breakfast frittata.
The key to making this tofu frittata taste great is seasoning the batter. I've added turmeric, garlic powder, onion powder, and dijon mustard alongside a trusty grind of black pepper.
You can add whatever herbs and spices you like here, but I find this to be a great combination for a delicate taste. The other key ingredient is kala namak, also known as black salt, for that important eggy flavour.
What is black salt?
Kala namak, or black salt, is a kiln fired rock salt. By firing it in a kiln a chemical reaction is created, in which some of the naturally occurring sodium sulphate is transformed into hydrogen sulfide.
Higher levels of hydrogen sulfide give black salt its distinctive 'eggy' smell and flavour, which makes it a great ingredient for egg replacements. As it is a salt, the eggy flavour also comes with saltiness, so you need to be careful about the amount used!
How to make vegan frittata
Make the eggless frittata base
To make the batter really fluffy, we need to whip up some aquafaba. Drain two cans of chickpeas, reserving the chickpea water. Put the chickpeas in the fridge as these can be used to make hummus or roasted chickpeas, and are a wholesome ingredient for curries and pasta salads.
I have a whipping attachment on my food processor which is great for the job of whipping the aquafaba, but if you don't, there are a few other options:
You can put the aquafaba in a bowl and use an electric hand mixer.
Using the whipping attachment on a stand mixer.
In a food processor or blender (though this will not offer such great results as the first two options).
In a bowl, by hand, with an old fashioned whisk (this one requires a little more elbow grease!).
All in all, the main goal here is getting the aquafaba to roughly double in volume. Once it has, put it to one side in a large mixing bowl.
Next you need to mix the rest of the vegan frittata batter ingredients. You can use a blender, food processor, bullet blender or stick blender for this.
If you don't have any of these, I would suggest mashing up your silken tofu first then gradually whisking in the chickpea flour, black salt, turmeric, dijon, garlic powder, onion powder and black pepper. The end goal is to have a thick, smooth mixture.
Finally, you want to gently fold the flour mixture into the aquafaba.
Prepare the veggies
The next step is to prepare the vegetables. Fry the sliced onion and mushroom in a pan or skillet over a medium heat. Once the mushrooms have stopped releasing water and the juices have cooked off, add spinach and wilt for 2 minutes.
It's really important that this is kept over a high heat until all of the water has evaporated, as water will make your tofu frittata soggy. Just keep stirring them around the pan until they are dry.
How to cook breakfast frittata
Pour the batter into the pan and mix well so that the vegetables are evenly distributed. Transfer it all to a 20cm round ovenproof dish, and top with sliced tomatoes. Bake at 180c or 360f for 45 minutes or until a fork placed in the centre comes out dry.
If you have an ovenproof or cast iron skillet, you won't need to transfer the vegan frittata batter between pans. After adding the batter on the stovetop, keep it on the heat until the edges are cooked. Then add the tomatoes, and transfer to the oven for a further 30 minutes.
Ingredient substitutes
An eggless frittata is a great way to use up leftover veggies that you might have hanging around in your fridge or cupboards.
Canned vegetables make a great, cheap addition. Just make sure that you drain them well, as any excess water could affect the consistency of the breakfast frittata.
I would suggest avoiding vegetables such as carrots, sweet potato or other root vegetables, broccoli and cauliflower, as these take a little longer to cook and may end up being raw inside your chickpea flour frittata. Vegetables such as courgette, aubergine, and red bell pepper work really well and are super tasty.
How to serve vegan frittata
I love how versatile this dish is, as you can really enjoy it at any time of day, and in so many different ways!
Try it with sauteed garlicky kale and sliced avocado for a great lazy weekend breakfast or brunch.
Did you know that vegan frittata can be used in breakfast tacos? Just chop it up small and combine it with pico de gallo, guacamole, black beans and fresh coriander inside a soft taco!
It also makes a great sandwich filling alongside crunchy lettuce, cucumber and bell pepper.
For dinner, try it warm alongside some oven roasted potatoes and steamed broccoli.
Or in summer, just eat your tofu frittata with a big fresh side salad, filled with veggies, beans, nuts and seeds, for a well rounded meal.
Can I prepare frittata in advance?
The cooked version of this chickpea flour frittata keeps in the fridge for up to 4 days. After the first day, the outer will turn from crispy to soft. It's still delicious, just without the crunchy exterior.
This makes it perfect for enjoying cold at a picnic, in a packed lunch or as part of your meal prep. If you want to eat it hot, just pop it in the microwave for a couple of minutes until piping hot through. If you'd rather, you can also heat it in the oven for 5-10 minutes.
The eggless frittata mixture keeps well in the fridge after mixing, so you can make the batter the night before and just mix through the veg and bake for an easy breakfast in the morning.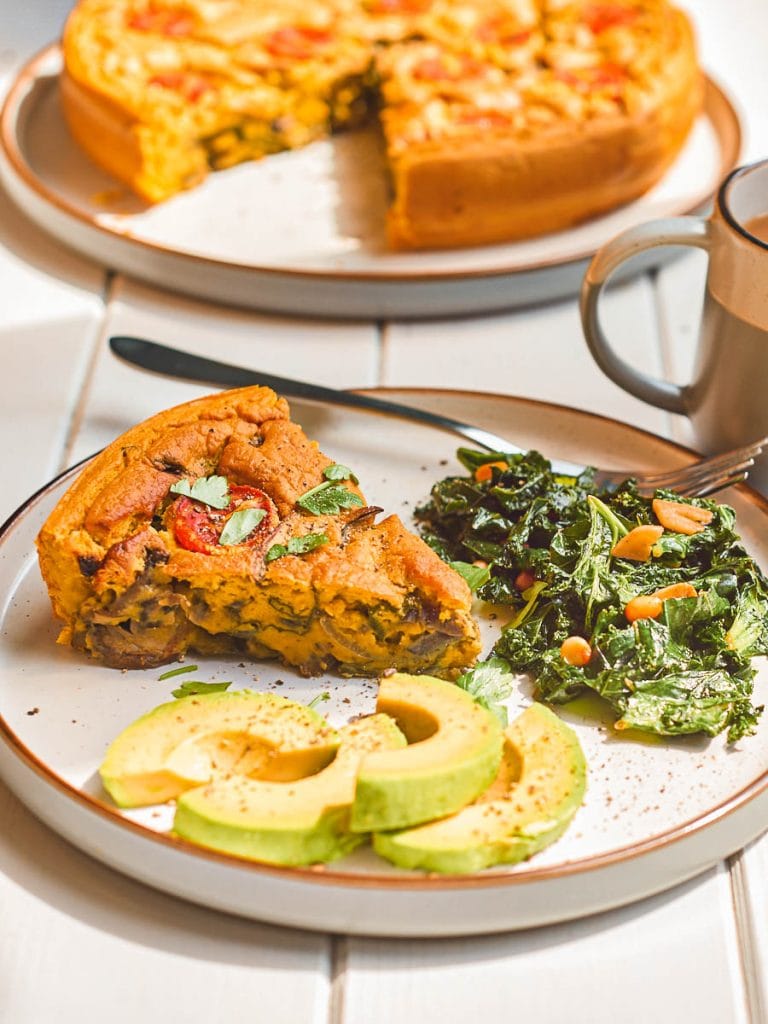 If you like healthy vegan breakfast recipes…
Pin it!
Vegan Frittata- Tofu Breakfast Frittata
This vegan eggless frittata makes the perfect weekend brunch recipe- with a fluffy aquafaba batter filled with mushrooms, spinach, and cherry tomatoes. Try it with my garlicky sauteed kale and sliced avocado for a delicious and healthy meal!
Ingredients
For the batter
2

cans

chickpeas

aquafaba reserved

150

g

chickpea/gram flour

1

pack

silken tofu

~350g

¾

tsp

black salt/kala namak

ground

1

tsp

turmeric

2

tsp

dijon mustard

2

tsp

garlic powder

1

tsp

onion powder

Twist

black pepper
For the frittata
1

tbsp

olive oil

1

red onion

sliced

150

g

mushrooms

sliced

50

g

spinach

100

g

cherry tomatoes

halved
Instructions
For the batter
Drain the aquafaba from the chickpeas into a bowl. Reserve the chickpeas for use in another recipe**. Using a hand whisk, mixer, or food processor, whip the aquafaba until it doubles in size.

In a food processor, blend the chickpea flour, silken tofu, black salt, turmeric, dijon, garlic powder, onion powder and black pepper.

Fold the chickpea flour mix into the aquafaba gently, until they are combined.
For the frittata
Preheat the oven to 200°/fan 180°/gas mark 6.

Heat the olive oil in a medium pan over a medium-high heat (if you are baking your frittata in your pan, use that here). Add the onion, fry for 2 minutes, then add the mushrooms. Continue cooking until the mushrooms have released their liquid, about 3 minutes.

IF USING AN OVENPROOF PAN: Add the batter to the pan and stir well to combine. Leave on a medium heat for 10 minutes until the frittata is cooked on the bottom and around the edges. Top with sliced cherry tomatoes cut-side up. Cook in the oven for 35 minutes, or until a fork placed in the centre comes out clean.

IF NOT USING AN OVENPROOF PAN: Mix the cooked vegetables and the batter mixture in an ovenproof dish with a lined bottom. Top with sliced cherry tomatoes cut-side up. Cook in the oven for 45 minutes, or until a fork placed in the centre comes out clean.

Once removed from the oven, leave to cool for 15 minutes before removing it from the pan/dish. Slice and enjoy!
Notes
*It is really important that all of the liquid evaporates here! If you don't, the water released whilst in the oven will sink, and the frittata will be soggy on the bottom!
**Use leftover chickpeas in my Moroccan Tagine recipe!
---
---