Summer Split Pea Soup
Finally summer is here, and today (prepare to be suprised) I have a split pea soup recipe for you! This is one of my favourite soup recipes, as it puts such a fresh take on yellow split peas.
Split pea soup? In summer?
Trust me. I cooked this recipe the other day when we were having a beautiful, sunny, 25 celsius day. It was heaven! We ate it in the garden, with a cool glass of white, and honestly felt like we were on holiday. This soup is so filling, but at the same time so light and fresh, from the lemon, tomato, basil and mint, and a truckload of beautiful summer vegetables. It's so easy to throw together, and requires just a little bit of patience for the split peas to cook.
The difference between yellow and green split peas
Split peas are simply mature peas which have been dried out, peeled and split- yellow split peas are made from yellow peas, and green split peas from green peas. They are both very similar, carrying mostly the same nutritional value and with similar cook times. The main difference is in flavour, as yellow peas have a mild earthy flavour, whilst green peas taste a bit stronger and sweeter. If you don't have yellow split peas to hand, feel free to swap out for green split peas in this recipe without adjusting the cook time!
Do yellow split peas need soaking before cooking?
There is an argument for soaking before cooking- one of the main reasons for this is that it reduces the cooking time required for dried peas. However one of the pleasures of split peas is that they have an increased surface area, due to the fact that they're split. This means that they have a much quicker cooking time anyway, and reduces the need for soaking. As I'm cooking the split peas in lots of liquid, and am looking for a slightly firmer texture anyway, I don't worry about soaking the peas in this recipe. Just give them a good rinse and throw them in!
What else is in this soup?
Okay, so the recipe is called 'summer split pea soup', and split peas were where it started. Then came the peppers, and courgette, and the aubergine. They're delicious, and they're summery, and they're everything I want right now! Broad beans are beautifully seasonal at the moment too (I'm loving roasting them up for these crunchy broad beans) so I had to throw a few of those in. Finally I chopped up a whole load of herbs. I used basil and mint in my soup, as I love this combination and it screams summer to me. But you can throw whatever you like in here- choose your favourite combination and enjoy!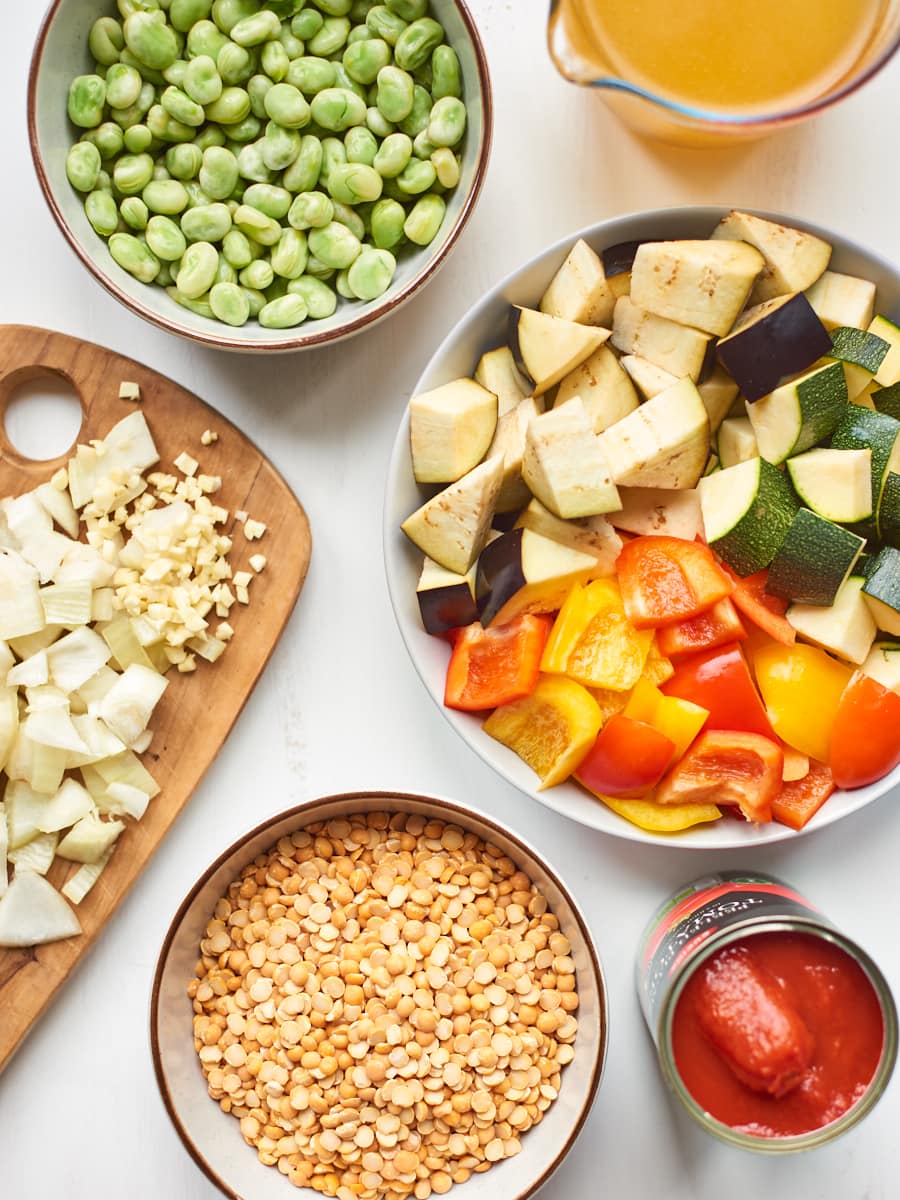 How to make summer split pea soup
This split pea soup recipe is super easy, just requiring you to add the veggies at intervals to make sure everything is cooked just the right amount! Start by heating the oil in a large saucepan or soup pan over a medium heat. Add the onion and garlic, stirring until it softens and turns golden, about 5 minutes. Add the red pepper flakes and stir for one minute more before adding the peeled plum tomatoes and balsamic.
Now turn the heat up to high and cook for a further 5 minutes, stirring infrequently. You want the tomatoes to begin to char and caramelise slightly on the bottom, as this will give them a really rich flavour. Break the tomatoes up with a spoon, then pour in the stock. Stir well, add in the rinsed split peas, then leave these to simmer (covered) for 30 minutes. Be patient, and check that they aren't sticking to the bottom every so often!
After 30 minutes, add in the peppers, stir well, then cover and leave to simmer for another 10 minutes. Add the remaining veggies (courgette, aubergine, and broad beans), and season the soup to taste. Cover and leave to simmer for the final 15 minutes. Check that everything is cooked to your liking- some people like their veggies to be a bit softer, and if this is the case, give them a little longer.
Now remove the soup from the heat. Throw in the chopped herbs and the lemon juice, taste for seasoning and season further if needed. Last but not least- enjoy the taste of summer in a soup.
Storing and reheating the soup
Keep the soup in an airtight container for up to 4 days- enough for nearly a week of lunches! The split peas may soak up a little water, so if they have just ass a bit of water in before reheating. This soup is also perfectly freezable. I like to portion it up into reusable containers, and once it's cooled to room temperature, freeze it for a sunny day. It will keep at its best for up to 3 months in the freezer. Defrost at room temperature or in the fridge, or if you fancy, reheat from frozen on a pan or in the microwave.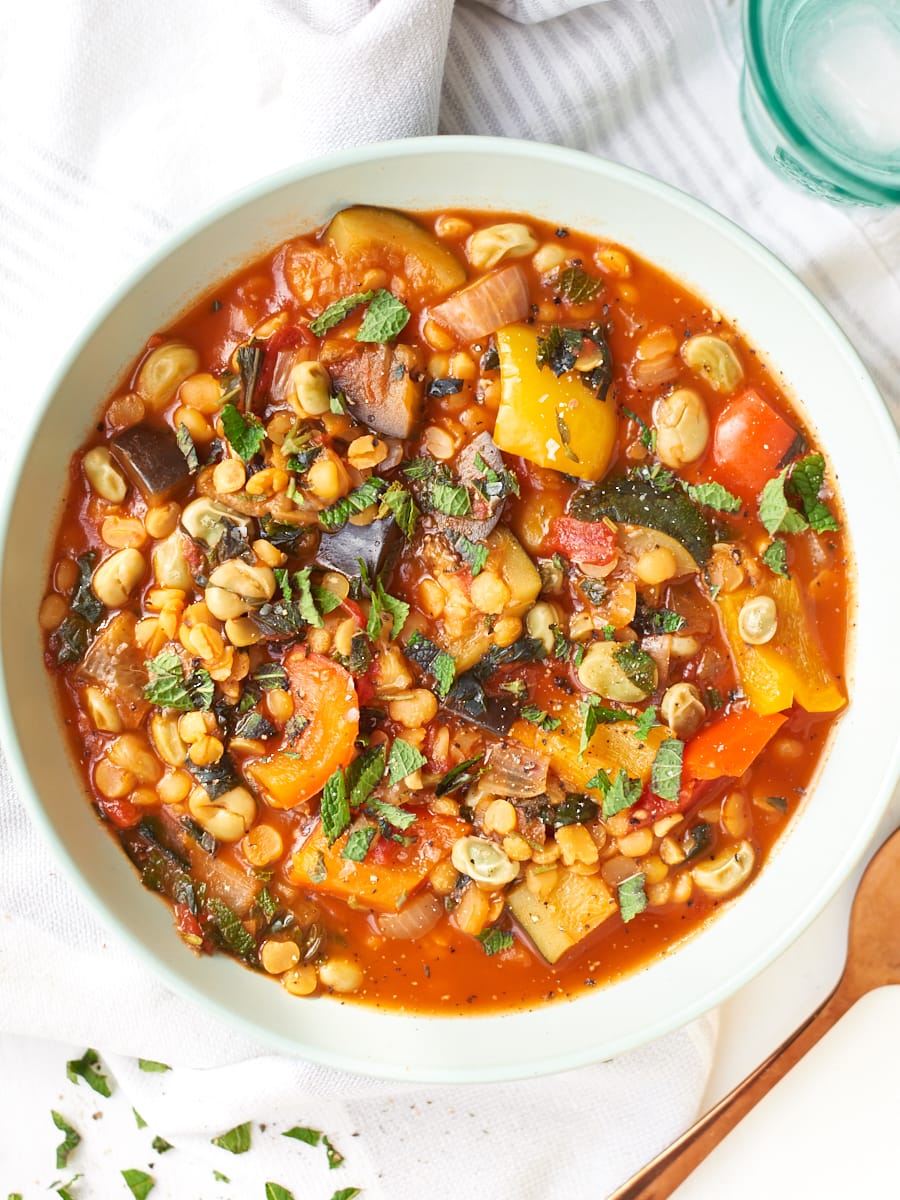 If you love summery recipes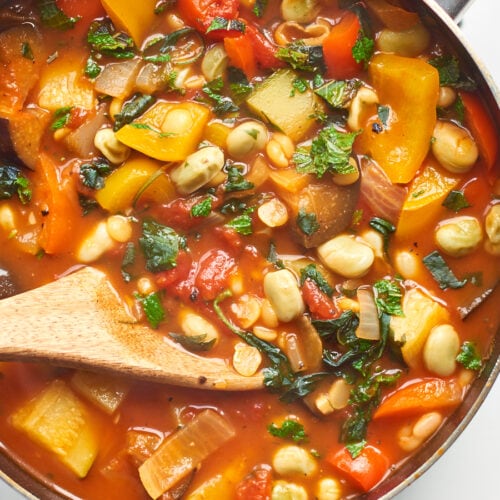 Summer Split Pea Soup
This is one of my favourite split pea soup recipes, as it's such a fresh take. Enjoy it on a warm day with a glass of something cool and refreshing!
Ingredients
2

tbsp

olive oil

1

brown onion

chopped

3

cloves

garlic

finely chopped

1

pinch

red pepper flakes

1

can

peeled plum tomatoes

400g

1

tbsp

balsamic vinegar

250g

split peas

rinsed

1

litre

vegetable stock

2

bell peppers

chopped into 1 inch chunks

1

small

aubergine

chopped into 1 inch chunks

1

courgette

chopped into 1 inch chunks

250

g

broad beans

frozen or fresh

1

lemon

juiced

30

g

mixed fresh herbs

(I suggest basil and mint)

salt and pepper

to taste
Instructions
Heat the oil in a large soup pot over a medium heat. Add the onion and garlic, and saute for 5 minutes until translucent. Add the red pepper flakes and cook, stirring, for 1 minute more.

Turn the heat up to high. Add the plum tomatoes and the balsamic, and stir to combine with the onions.

Cook at a rapid simmer, stirring infrequently, until tomatoes are slightly caramelised at the bottom of the pan- about 5 minutes.

Add the stock and split peas. Bring to a simmer and cover. Simmer for 30 minutes, stirring occasionally to stop the peas from sticking to the bottom.

After half an hour, add the chopped bell peppers. Cover again and simmer for 10 minutes.

Add the courgette, aubergine and broad beans to the pan. Season and stir, then cover and simmer for a final 15 minutes.

Stir in the lemon juice and herbs, and adjust seasoning to taste.
Made this recipe?
I'd love to know how you got on- let me know how it turned out in the comments below!
Or if you'd rather you can Pin it, or share it on Facebook (forkfulofplants) or Instagram (forkful_of_plants). Don't forget to tag me!
Want to hear more from me?
Sign up to my newsletter below and I'll make sure you're the first to know when I post a new recipe!
---
---