Easy 15 Minute Almond and Coriander Couscous Recipe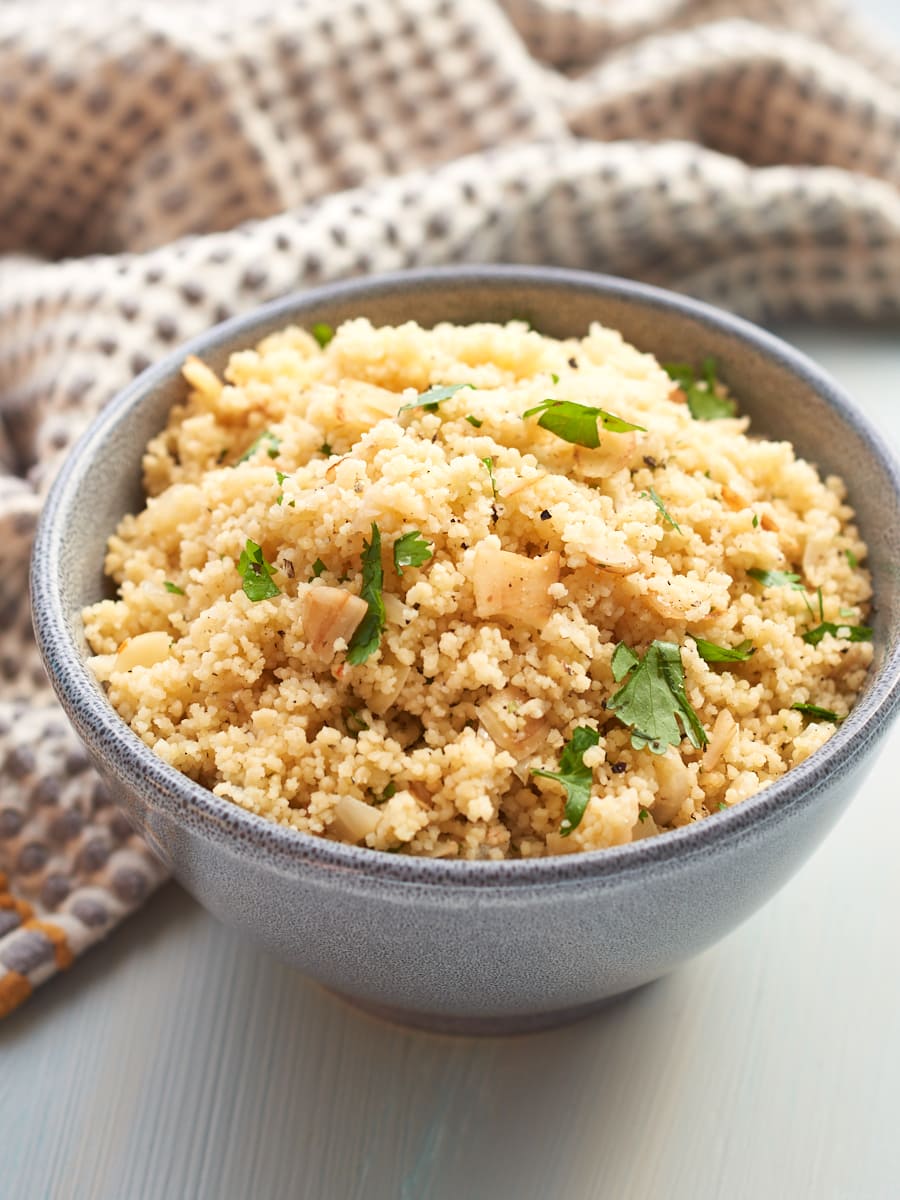 I spent a long time completely overlooking couscous. We often cook meals with different kinds of rice and pasta, and other grains such as buckwheat and quinoa. For some reason, couscous never came to mind when putting together a side dish. When we visited Morocco last year, we ate copious amounts of couscous. You got it. Breakfast, lunch, and dinner. It was so good. So coming home, I was reminded of not only how tasty couscous can be, but also how ridiculously easy it is to prepare compared to other grains. Today I'll show you one of my favourite easy couscous recipe.
What is couscous?
Due to its small size, couscous is often thought to be a grain. In fact, couscous is actually pasta- tiny balls formed from semolina flour. It's a fast alternative to rice or pasta and has a mild, nutty flavour that adapts really well to other flavours. The type that I'm using for this recipe is Moroccan couscous, which is the smallest form it comes in. The most commonly available form of this is instant couscous, which has been pre-steamed then dried. Some packets of couscous don't state that it's instant, but if the cook time is 5-10 minutes or less, then this is instant. I find this the easiest type to work with, and no worse than longer-cook varieties.
There are several other types of couscous, such as Israeli or pearl, which is peppercorn size and slightly chewier; Lebanese, which is the size of a pea, and is great for stews and soups; and wholewheat, which is made from wholewheat durum and is much higher in fibre.
How to make almond and coriander couscous
This is a great quick side dish recipe which uses 8 simple ingredients: olive oil, onion and garlic, flaked almonds, couscous and stock- and coriander and lemon to finish. Start by heating the oil in a saucepan over a medium heat. Then, add the onion, garlic and almonds. You want to cook these until the onion and garlic is soft, and the almonds are golden and toasted- this should be about 5 minutes. Next, throw in the couscous, stir well, season, and pour in the stock. Leave it covered for 5 minutes to steam away.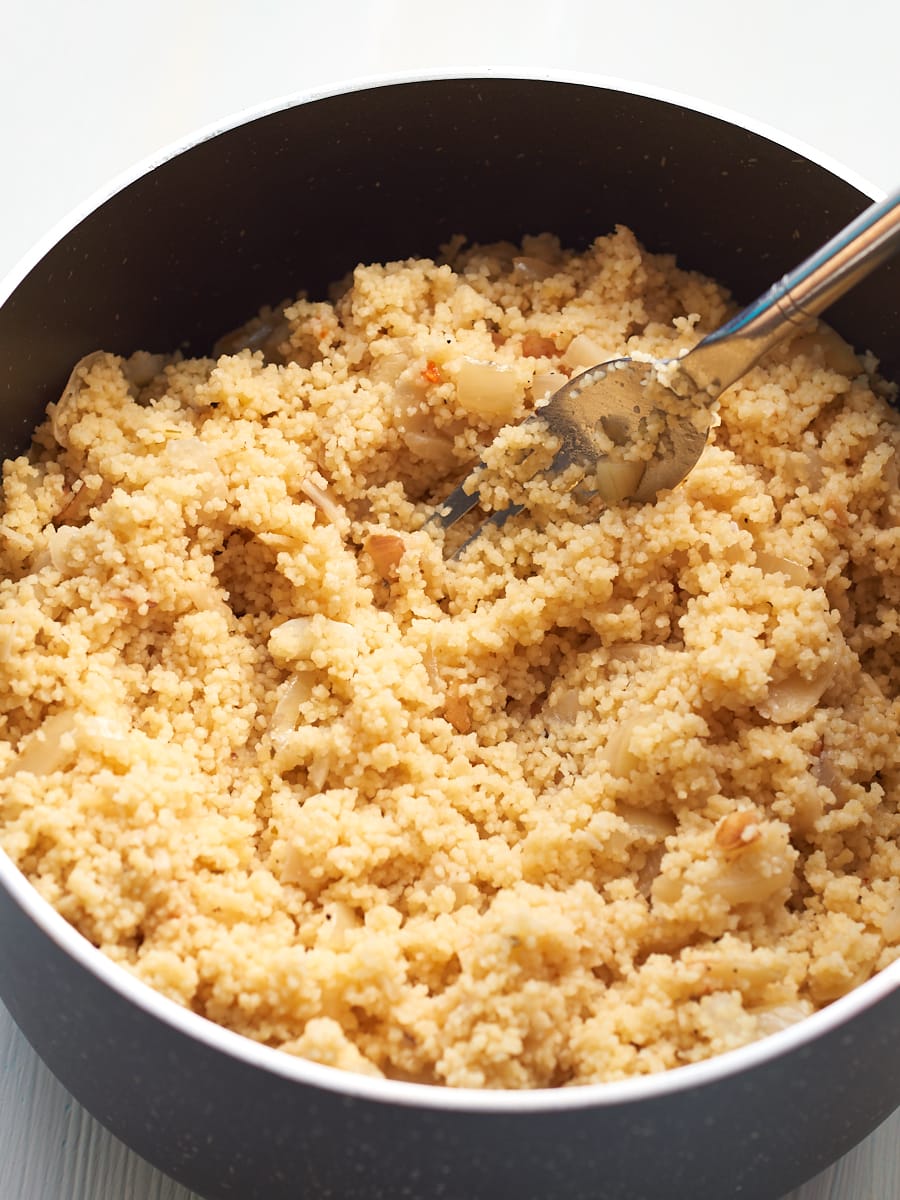 When you remove the lid, the couscous will be in a flat layer. Use a fork to fluff the couscous up and it will increase in volume quickly! Stir through the coriander and lemon juice- and that it. Super quick and easy, full of nutty and fresh flavour, and the perfect side dish.
Can I make variations on this dish?
Yes! This is a really easily customisable recipe- here's some ideas to get you started:
Swap out the sliced almonds for chopped pecan pieces, and use dill in place of coriander for something a little warmer.
Use a combination of your favourite herbs for a more intense herby alternative.
Soften some peppers and tomatoes with the onion and garlic, and throw in a can of drained chickpeas at the end to make a more substantial dish which can be served with a side salad as a summery main.
What can I serve couscous with?
Of course, this couscous goes great with Moroccan dishes such as vegan tagine and or tomatoey instant pot stews. You could also have it on the side of grilled tofu with green veggies. Try using it to bulk up a hearty veggie traybake or stir it through a mixture of fresh leaves, tomatoes, olives and vinaigrette for a Mediterranean take. It's also a fab flavourful grain dish to use as part of lunch meal prep- combine it with a protein and veggies of choice for a well rounded and filling lunch for the week.
How to store and reheat cooked couscous
This couscous will keep well in an airtight container in the fridge for up to 5 days, making it perfect to use as part of your lunch prep, or to have as a handy side dish for dinners throughout the week. It's great eaten cold, but reheats just as well- I pop it in the microwave for a couple of minutes, but you could also put it in the pan with a bit of oil (just make sure you keep stirring it to make sure it doesn't stick and to distribute the heat). I wouldn't recommend freezing couscous as this can affect the texture of it, however if you wanted to freeze this dish it wouldn't harm you- just make sure it is piping hot through before serving.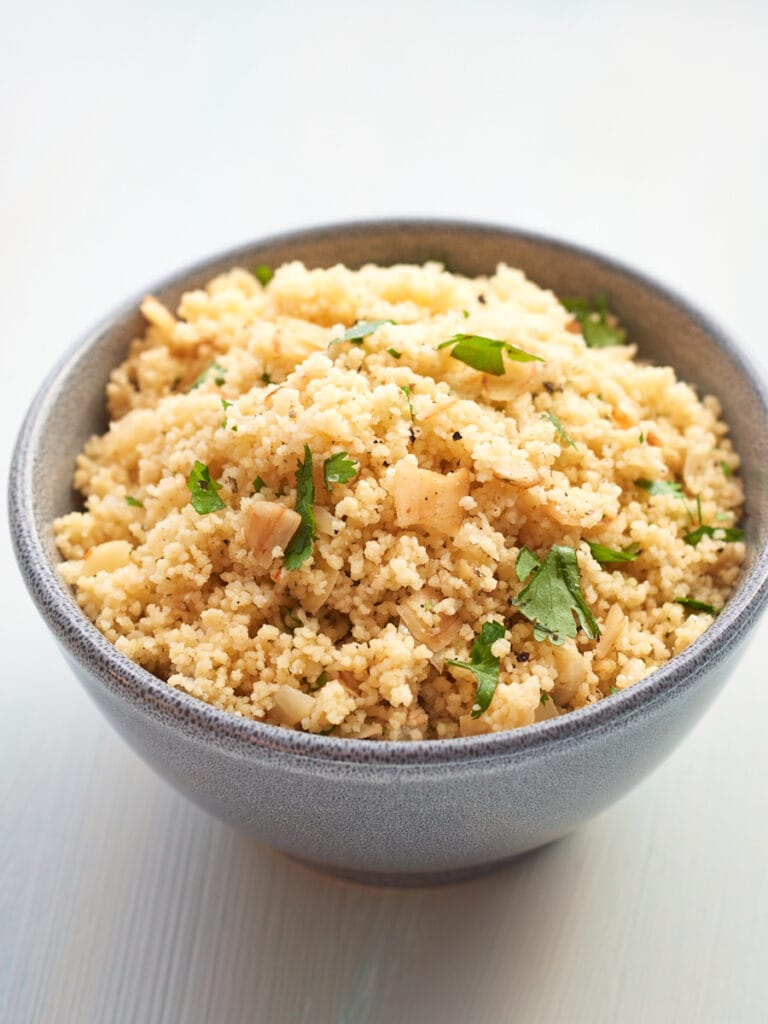 15 Minute Almond and Coriander Couscous
This easy 15 minute couscous recipe makes the perfect side dish or salad add-in. With crunchy almond slices and fresh herbs, it's perfect for any meal.
Ingredients
1

tbsp

olive oil

1

small

onion

finely chopped

2

cloves

garlic

finely chopped

60

g

flaked almonds

300

g

couscous

450

ml

vegetable stock

15

g

coriander

chopped

½

lemon

squeezed
Instructions
Heat the olive oil in a saucepan over a medium heat. When the oil is hot, add onion, garlic and almonds. Fry until onions and garlic are softened, and almonds are golden and toasted, about 5 minutes.

Add the couscous to the pan, and stir to combine. Pour in the stock. Cover the pan, turn off the heat, and leave for 5 minutes.

After 5 minutes, remove the lid. Fluff up the couscous with a fork, then stir through the coriander and juice of half a lemon. Season to taste with salt and pepper.
Made this recipe?
I'd love to know how you got on- let me know how it turned out in the comments below!
Or if you'd rather you can Pin it, or share it on Facebook (forkfulofplants) or Instagram (forkful_of_plants). Don't forget to tag me!
Want to hear more from me?
Sign up to my newsletter below and I'll make sure you're the first to know when I post a new recipe!
---
---