Strawberry Cheesecake Breakfast Bowl
If I could start every day with desert, I would. More specifically, with cheesecake. I've eaten some amazing cheese-free cheesecakes in my years of being vegan. Cheesecake wins every time. So if I can have cheesecake in a breakfast bowl and remain fuelled for a busy morning, I will.
Cheesecake? For breakfast!?
Disclaimer- this isn't totally like cheesecake. Whilst cheesecake tastes great, it isn't exactly the healthiest! This cheesecake bowl is far healthier, packed with protein, low in sugar, and filled with fibre to make the perfect balanced breakfast.
I opted for a less set 'cheese' mix, as this required less ingredients and prep time, making this much more accessible for busy people. After spending the night in the fridge, the consistency is soft and whipped, and super creamy. However, it still tastes just like cheesecake.
The base is super easy to whizz up from oats, dates and walnuts. You can blend into a solid mix and press it into the bottom of your bowl like a cheesecake base, but I like to leave it a bit crumbly and sprinkle it on top. It tastes just like cheesecake base, but has only natural sugars, and plenty of protein and fibre!
Strawberry season is finally upon us, so it seemed a no brainer to go with strawberry flavour. Chop up some fresh strawberries to garnish and you're ready to go.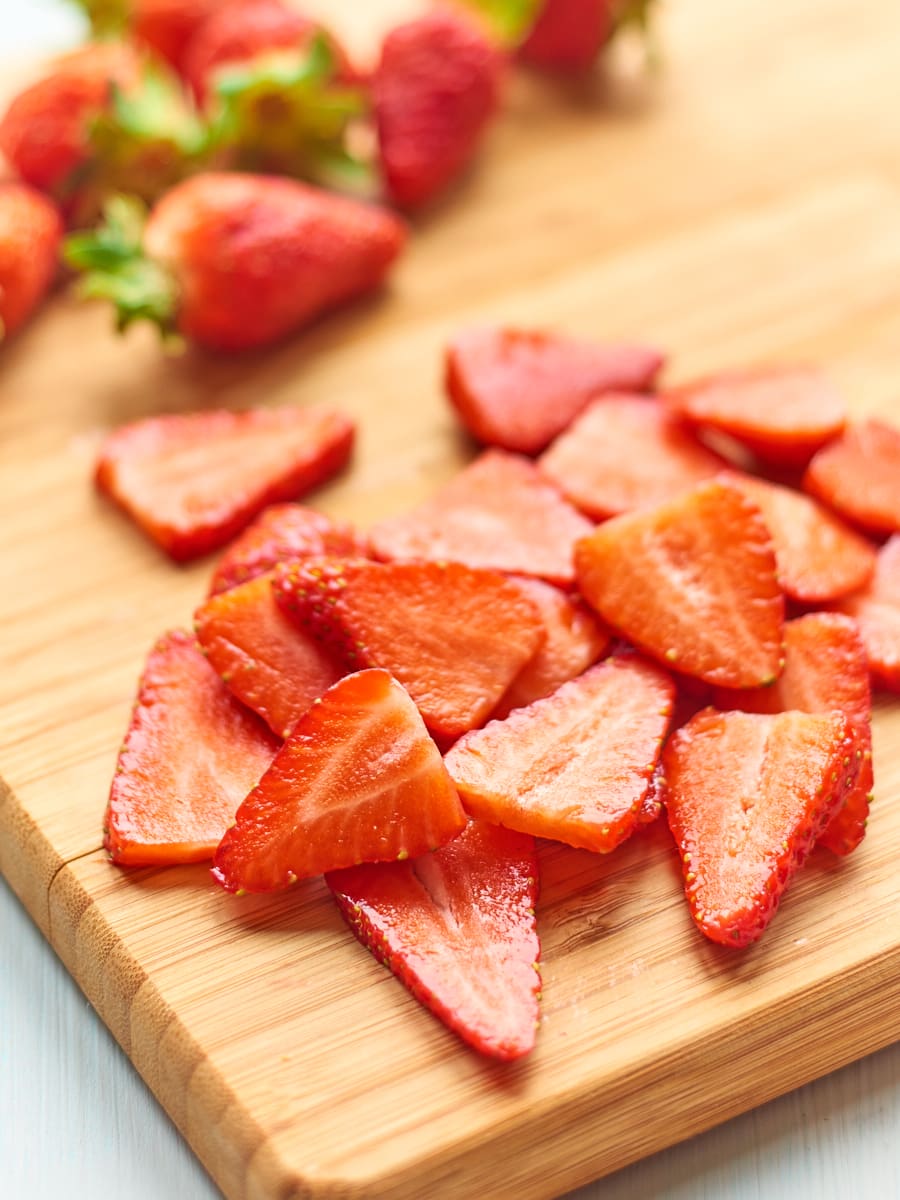 The components of this bowl can be prepped in advance, and then it's super easy to throw them together into a bowl or travel container in the morning.
What makes it so thick and creamy?
The cheesecake mixture is made super thick and creamy with a blend of silken tofu and coconut milk. The canned coconut milk loosens up the tofu enough to blend into creamy strawberry goodness, but also helps to firm the whole thing up in the fridge. Thick and creamy enough to eat by the spoonful!
Is this breakfast bowl healthy?
Yes! Not only is the strawberry mixture filled with protein and healthy fats from tofu and coconut milk, seasonal strawberries are high in vitamin c, manganese, folate and potassium, as well as being rich in antioxidants.
The 'base' mixture has only natural sugars from dates, and plenty of protein and fibre! Walnuts provide healthy omega-3 fats, as well as plenty of fibre, vitamins and minerals. Oats are a gluten-free whole grain, high in soluble fibres which keep you feeling fuller for longer. All in all, the perfect healthy breakfast!
How to make a strawberry cheesecake breakfast bowl!
The only equipment you'll need for this recipe is a blender or food processor. Start by making the cheesecake base mixture. To do this, simply add the dates, oats and walnuts to the food processor and blend (tip- if your dates are a little bit dry, soak them in some warm water for a couple of hours beforehand). You can stop the blending when it turns crumbly, or wait for it to form into a ball- I like to leave it crumbly.
Give the food processor a quick wipe out, then add the tofu, coconut milk, agave nectar, and vanilla. Blend until smooth and combined, then add in the roughly chopped strawberries. Blend on high until the mixture is completely smooth.
For extra topping, you can pre-slice some fresh strawberries too. Transfer all of the components to the fridge in airtight containers. In the morning, spoon a quarter of the strawberry mixture into a bowl, jar, or travel container, top with a quarter of the base mixture, and a few sliced strawberries. The components will make enough for 4 people, or for 4 days breakfast! A great option for a quick grab-and-go Monday to Thursday.
Can I freeze the cheesecake mixture?
Sadly, the tofu mixture doesn't freeze so well for making a breakfast bowl. However, a magical freezer tip for this mix is to pour it into ice lolly moulds. Lo and behold, high protein, super healthy and filling ice lollies! Try it, it's delicious. Alternatively, freeze the mix in an ice cube tray, and blend in a high speed blender with a spot of dairy free milk for a delicious cold smoothie!
Want some more awesome breakfast recipes?
Strawberry Cheesecake Breakfast Bowl
This healthy meal prep breakfast bowl tastes just like desert. Packed with protein and totally delicious, it tastes just like strawberry cheesecake!
Ingredients
For the base
80

g

pitted dates

80

g

walnuts

80

g

rolled oats
For the 'cheese' mix
1

pack

silken tofu

~350g

400

ml

can coconut milk

1

tsp

vanilla extract

1

tbsp

agave nectar

(or sub maple syrup)

350

g

strawberries

tops removed
To top
100

g

strawberries

sliced
Instructions
Add the dates, walnuts and oats to the food processor. Process on high until the mixture turns crumbly.

Quickly rinse out the food processor, then add the tofu, coconut cream, vanilla and agave syrup. Process until smooth.

Add the strawberries, then continue to process on high until the mixture is completely smooth.

Refrigerate the mixture overnight.

To serve in the morning, add a quarter of the base and the 'cheese' mixture to a bowl or travel container, and top with 25g sliced strawberries.
Notes
THE BASE: If you'd like a more solid base like a traditional cheesecake, blend until the mixture comes together into a ball, then press into the bottom of your serving bowl.
THE 'CHEESE': If you want to leave some chunks of strawberry in your 'cheese' mixture, simply blend for less time.
SERVING: This recipe makes 4 days breakfast or breakfast for 4. Keep both mixtures in the fridge to keep them at their freshest.
Made this recipe?
I'd love to know how you got on- let me know how it turned out in the comments below!
Or if you'd rather you can Pin it, or share it on Facebook (forkfulofplants) or Instagram (forkful_of_plants). Don't forget to tag me!
Want to hear more from me?
Sign up to my newsletter below and I'll make sure you're the first to know when I post a new recipe!
---
---