Sauteed Kale with Garlic and Toasted Pine Nuts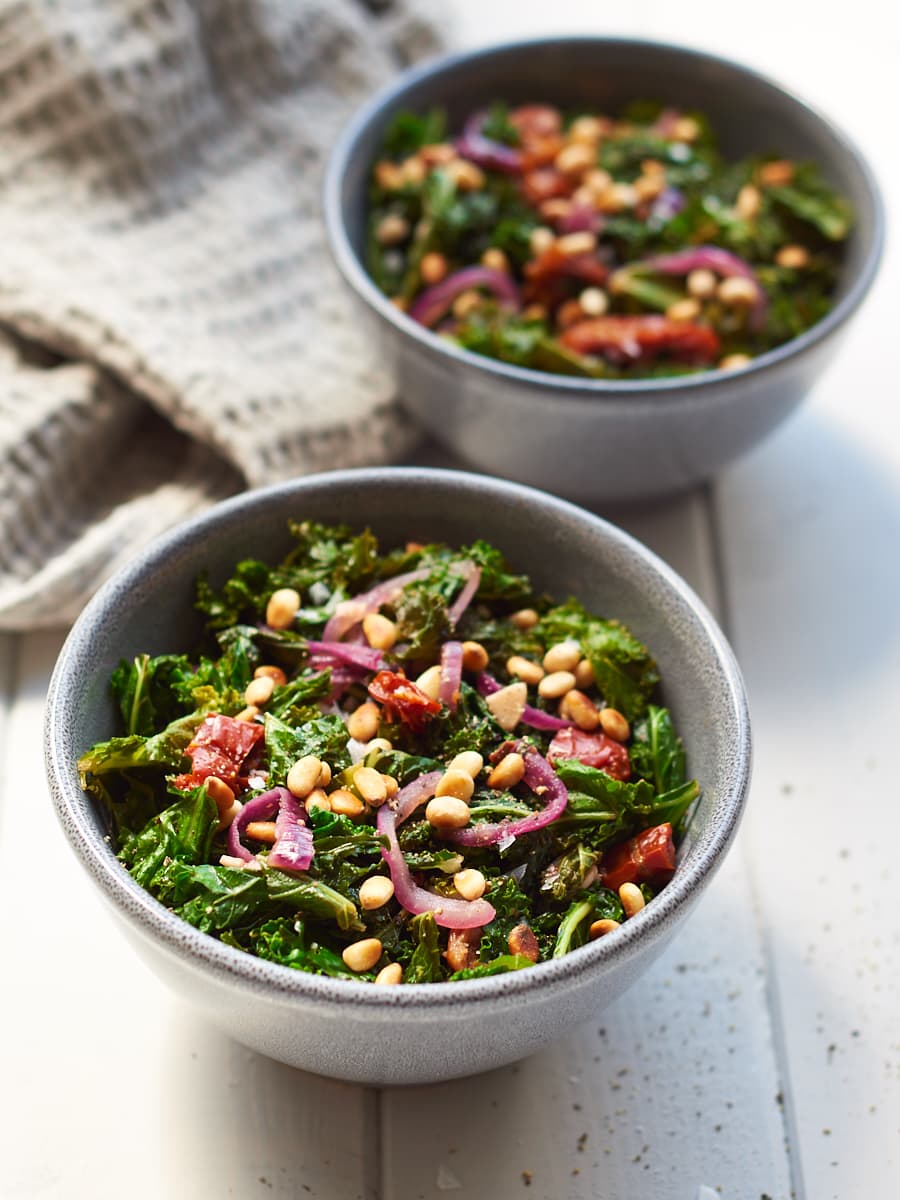 Kale! The leafy green that so many people have a love-hate relationship with. One of the most nutritious plants available to us, we've been told time and time again that we should be eating it, and we want to love it. The problem is, it's known to be bitter and tough, and no one really knows what to do with it. Here's an option- tender sauteed kale paired with plenty of garlic and topped with crunchy pine nuts. Even Remi, a renowned kale hater, converted for this one.
Types of kale
I used curly kale for this recipe. This is what's available to me right now, so I went with it. This type of kale is readily available in supermarkets and often comes ready chopped. Although the stalks are supposed to be removed from the pre-chopped stuff, there's generally quite a few left in there, so make sure to pick them out as they can be pretty woody and unpleasant to eat. Curly kale has curly leaves (who's surprised!?) and is slightly bitter in flavour. Don't be put off by this- it works great in this recipe and the sauteing removes a lot of the bitterness.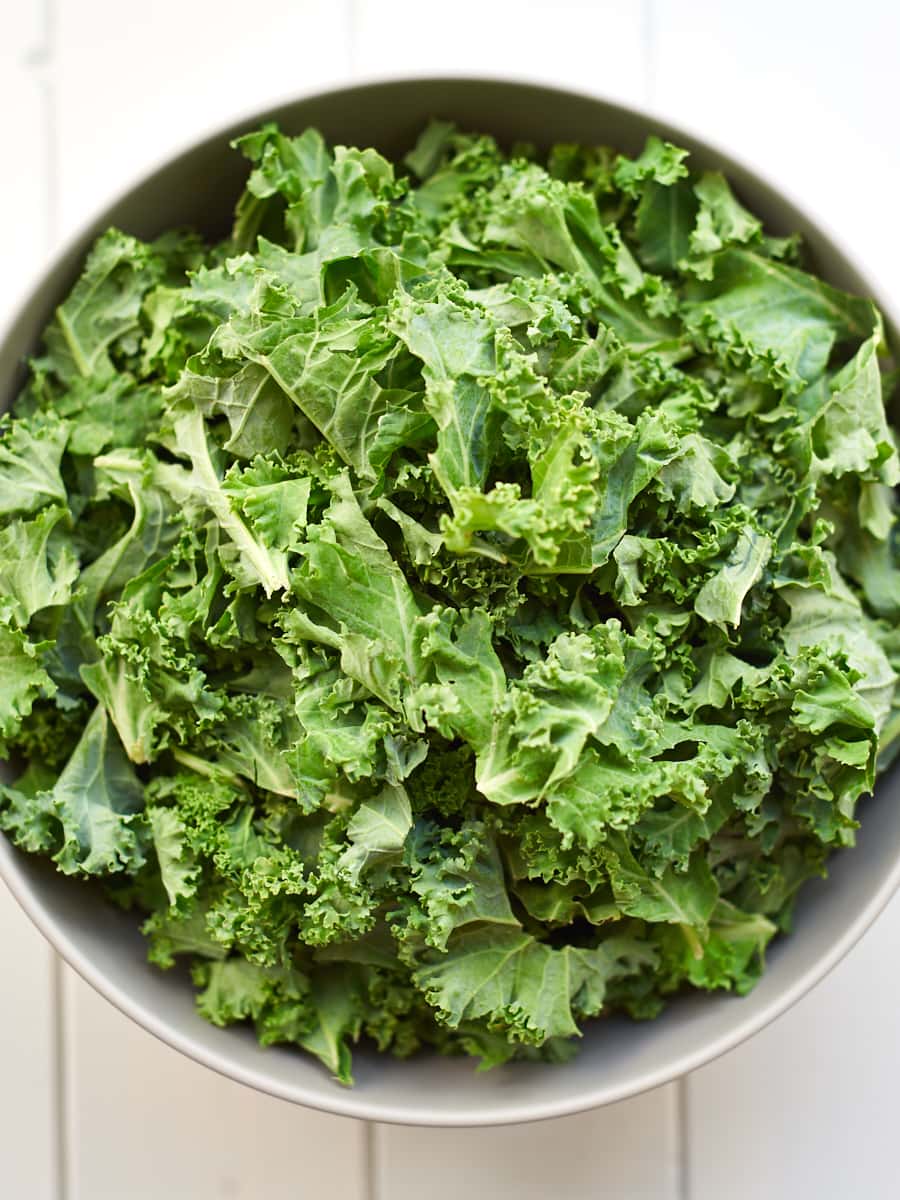 The other type of kale is cavolo nero, or black kale. This is the name that it is most commonly found under in UK supermarkets, but it's also known as tuscan, lacinato, or dinosaur kale. It has much flatter, longer leaves which are dark green-black in colour. Black kale has a milder, sweeter flavour, and a lot of people find it much more palatable than curly kale. You can find this by the bunch in some supermarkets, and at local markets and farmers markets. This also works great for this recipe, so feel free to swap it in!
How to prepare kale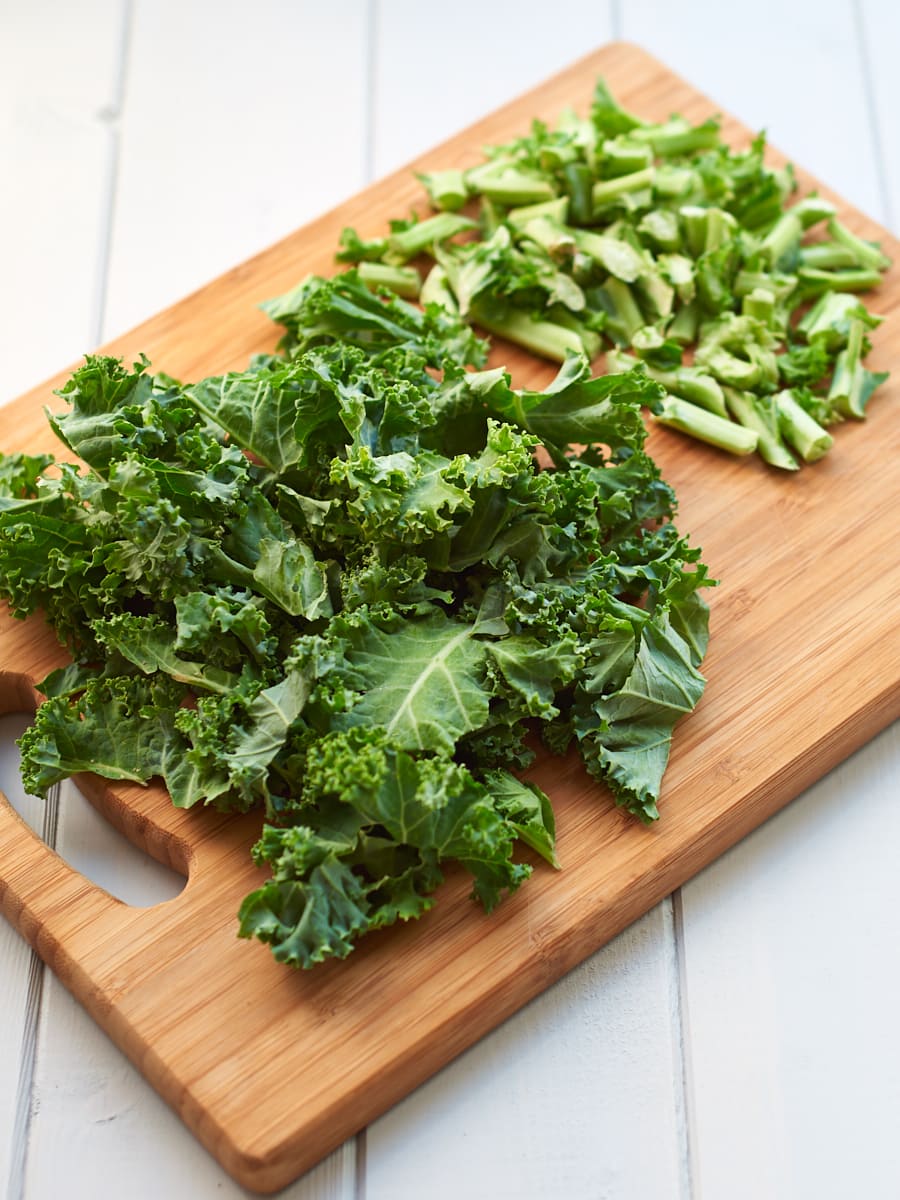 When it comes to curly kale, removing the stalk is really important, as this is where a lot of the toughness and bitterness lies. To remove it, fold the kale in half along the stalk, then use a sharp knife to slice alongside the stalk. Discard the stalk, then roll the leaves up together and roughly chop them into bite size pieces. If you bought pre-chopped kale from the supermarket, as mentioned above, just make sure to pick through for any woody stalks before throwing it into the pan. If you're cooking with black kale, the stalks are much more tender and are perfectly fine to eat. However, feel free to remove them using this same method if you're still not sure!
How to cook sauteed kale
Sauteed kale is one of the easiest veg side dishes to cook. Prep your kale, then put it into a colander and give it a quick rinse. Add your olive oil to a large pan on a medium heat, then fry the onion and garlic for 3-4 minutes until lightly golden. Add the kale to the pan- I also add a few sundried tomatoes here for some added flavour. Give it a good stir to coat in the flavours, then add the water. Cover and leave for 3 minutes over a medium-high heat, until bright green and tender. Throw in the apple cider vinegar and lemon juice, and season well. Keep it on the heat, uncovered, for another minute, stirring well to coat the kale and allow excess liquid to evaporate.
In this recipe, I toast some pine nuts in a dry pan for 3-4 minutes until they're golden. You'll smell the amazing earthy nutty flavour that comes out of these as they release their oils, and this lends itself really well to the lemony zing of the kale.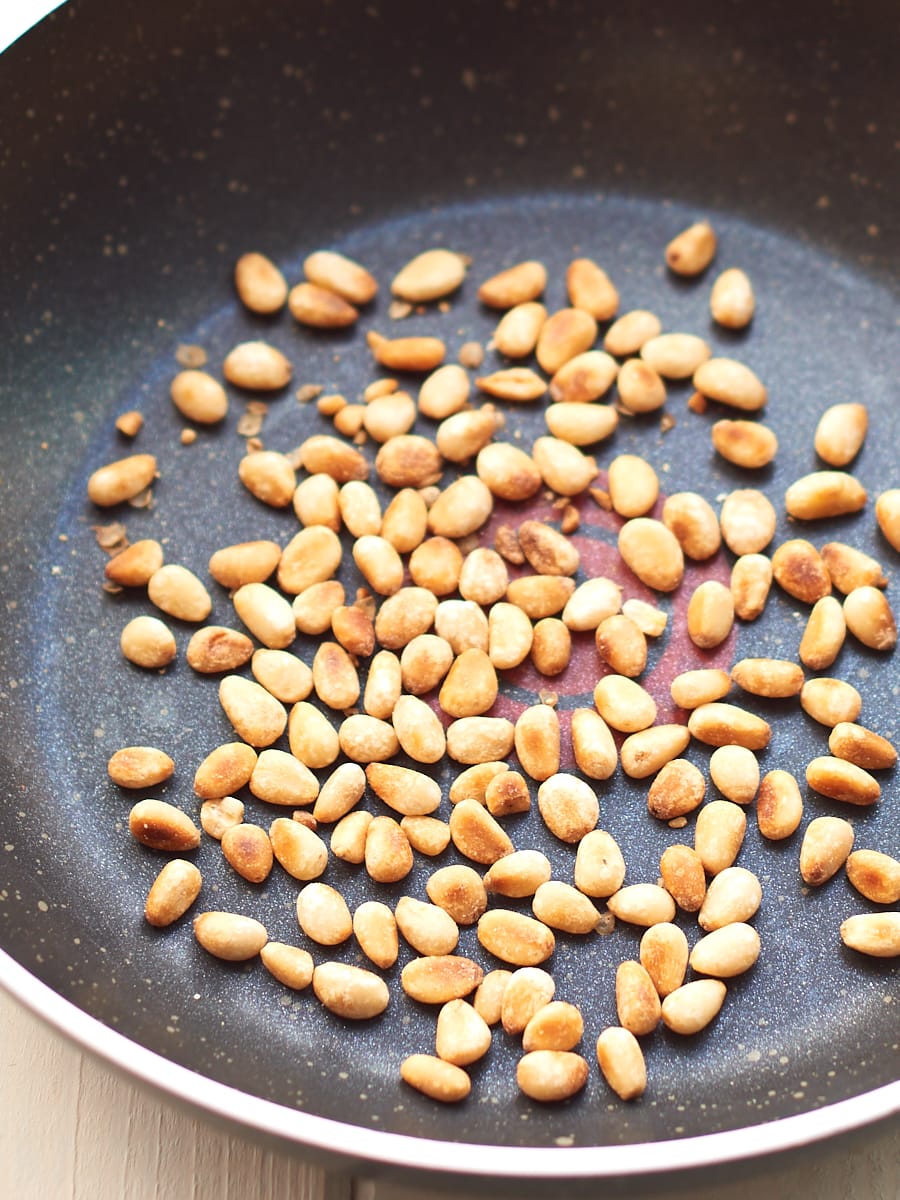 Why should I eat kale?
First and foremost, you should eat kale because it's ridiculously tasty when it's cooked right. If you need a bit more convincing, let me tell you- it's a nutritional powerhouse. It's regarded as one of the most nutritious vegetables around, filled with vitamins, minerals and antioxidants. Think omega 3, copious amounts of vitamins A, K, and C, manganese, potassium, and calcium. It's great for a healthy heart, skin and eyes, as well as being a powerful anti-inflammatory. It has a very low calorie content so is incredibly nutrient-dense. So go saute some kale!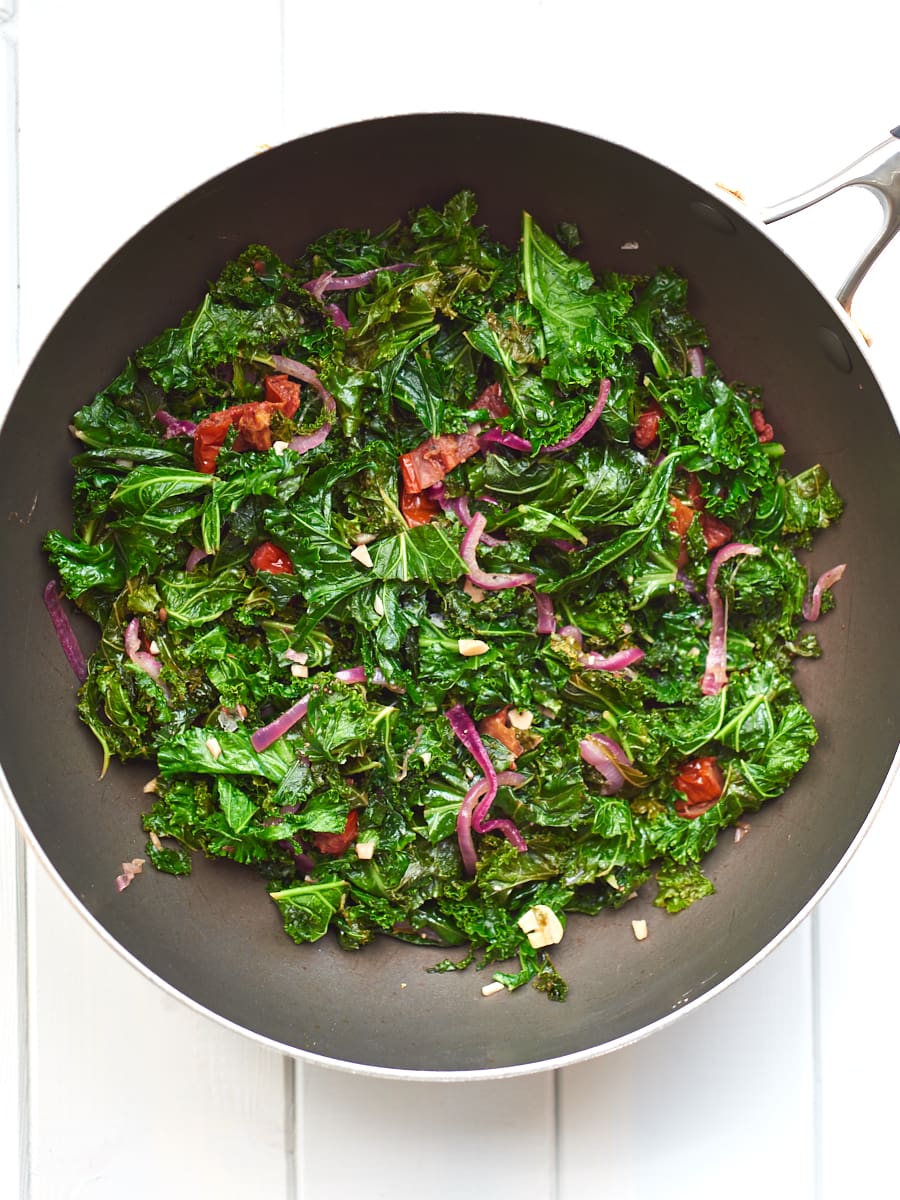 How to store sauteed kale
As always, I like to give you options on how to best keep your prepared food so that minimum prep= maximum output. This recipe multiplies incredibly well, granted you've got a pan big enough. If you're planning on using this as part of your lunch prep, it keeps really well in the fridge for up to 4 days. It can then be enjoyed cold, or reheats well in a pan or in the microwave. If you'd like to freeze portions of this for easy weeknight side dishes, pop it in the freezer in airtight containers, and defrost to room temperature before reheating. If you break it up a little as it starts to defrost, this will speed up the defrosting process. I wouldn't recommend reheating this from frozen as it will go quite soggy.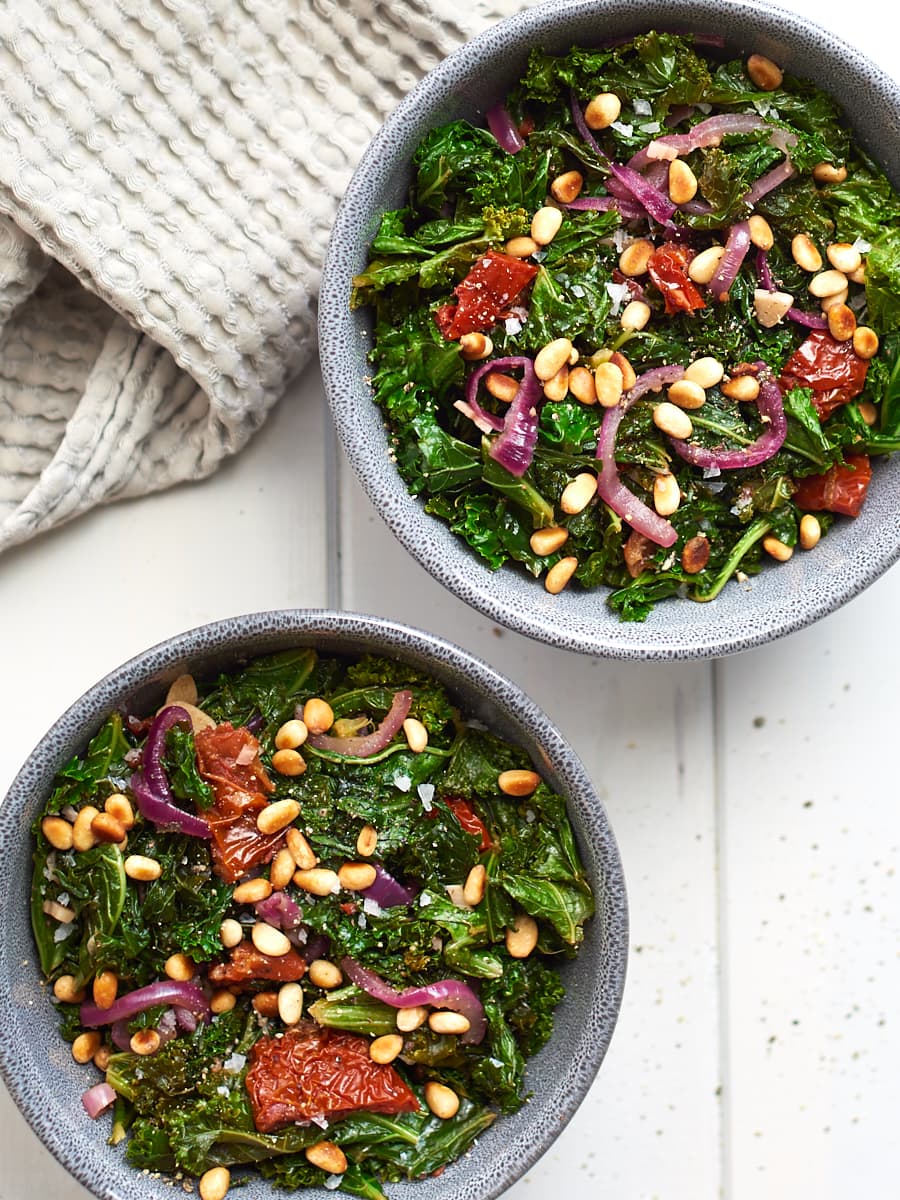 What should I serve sauteed kale with?
This is a really versatile side dish and great for breakfast, lunch or dinner. It pairs well with pretty much anything, especially Mediterranean dishes. Try it in a lunch prep bowl with quinoa, grilled tofu, and a herby dressing; on the side of a pumpkin casserole or bolognese, or vegan pot pie; or partnered up with a Spanish omelette or vegan frittata, for a hearty Sunday breakfast.
Have I convinced you to try kale yet?
If I have, great! I really hope you enjoy it. If not, why not try these easy minted peas instead for your daily dose of greens!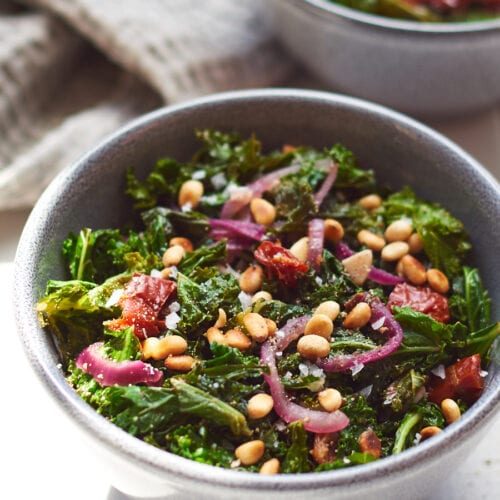 Sauteed Kale with Garlic and Toasted Pine Nuts
Garlicky sauteed kale makes the perfect healthy side dish for any meal- the most delicious way to cook this tricky leafy green!
Ingredients
For the kale
2

tbsp

olive oil

1

small

red onion

sliced

3

cloves

garlic

chopped

500

g

kale

roughly chopped

6

sundried tomatoes

chopped

60

ml

water

2

tbsp

apple cider vinegar

½

lemon

juiced

salt and pepper

to taste
Instructions
Heat the oil in a large pan or wok over a medium-low heat. Add the onions and garlic, and cook for 5 minutes until softened and golden.

Add the kale and the sundried tomatoes to the pan. Stir to combine, then add the water. Turn the heat up to medium-high, cover, and leave for 3 minutes.

Meanwhile, add the pine nuts to a small pan over a medium heat. Toast, stirring frequently, until golden brown.

After 3 minutes, remove the cover from the kale. Add the apple cider vinegar, lemon and season well. Stir over the heat for 1 minute to remove excess moisture.

Serve immediately topped with the toasted pine nuts.
Notes
NOTE ON PINE NUTS: You don't have to use pie nuts in this recipe if you have a tree nut allergy or they are not accessible. Try toasted sunflower seeds instead for a great crunch.
Made this recipe?
I'd love to know how you got on- let me know how it turned out in the comments below!
Or if you'd rather you can Pin it, or share it on Facebook (forkfulofplants) or Instagram (forkful_of_plants). Don't forget to tag me!
Want to hear more from me?
Sign up to my newsletter below and I'll make sure you're the first to know when I post a new recipe!
---
---